Thacker, Gerry Land at Perryfields Road, Bromsgrove, Worcestershire. [Client Report] (Unpublished)

Preview
PDF




WSM66251_pdfA.pdf


Download (4MB) | Preview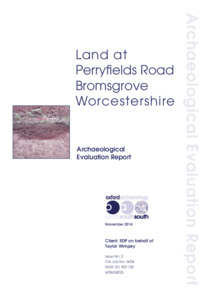 Preview
PDF




WSM58025_PdfA.pdf


Download (8MB) | Preview
Abstract
During October 2014 Oxford Archaeology undertook a trial trench evaluation on land
off Perryfields Road, Bromsgrove, Worcestershire. The evaluation trenches were
targeted on anomalies from a geophysical survey. Three trenches were excavated
over a ditched enclosure in the centre of the site, and a further trench targeted a
potential pit alignment to the east.
The ditched enclosure was noted to have been re-cut within two of the trenches. A
fired clay object recovered from the infill of one of the ditches is likely to be of Iron
Age date.
The fourth trench identified that the potential pit alignment was in fact a ditch, which
had a very compact fire cracked stone pebble upper fill. The stones could have
been placed to consolidate the surface of a trackway, or eroded into the ditch from
an adjacent positive feature. Pottery from the base of the stone layer is likely to be
of middle to late Iron Age date.
During December 2014 Oxford Archaeology undertook the second phase of
evaluation at land off Perryfields Road, Bromsgrove, Worcestershire. The work was
undertaken to gain further information about the archaeology uncovered within the
eastern part of the site during the phase 1 evaluation (OA 2014a). The evaluation
revealed an undated pit containing large quantities of burnt stone. This pit, together
with a ditch uncovered in the first phase of evaluation, may represent part of a
segmented boundary of mid to late Iron Age date. A second identified ditch and
associated plough furrows are likely to be of medieval or post-medieval date, and
represent agricultural activity. An irregular feature corresponded with a linear
anomaly from the geophysical survey, and proved to be of geological origin.
Actions (login required)