Bashford, Robin Worcester College Lecture Theatre and Kitchen Project Worcester Street Oxford. [Client Report] (Unpublished)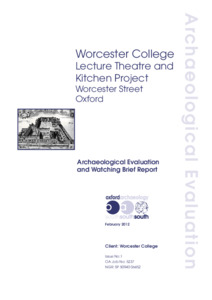 Preview
PDF




OXWORC11_PdfA.pdf


Download (4MB) | Preview
Abstract
In January 2012, Oxford Archaeology undertook a a field evaluation at Worcester
College, Oxford (SP 509 064). The evaluation followed on from a watching brief
which was maintained during the excavation of geotechnical test pits in December
2011 and January 2012.
The works revealed at least two distinct phases of negative features truncating the
natural terrace gravels. The earliest of these was not securely dated, but
significantly the composition of the fills was similar to those from prehistoric and
earlier medieval features excavated elsewhere in the city.
The later phase of features appeared to comprise 15th-16th century (perhaps
focussed around the immediate post-Dissolution period) pits of indeterminate
function. The fills of these features were overlain by a series of probable garden
soils/ or abandonement accumulation reflecting disuse or a market garden character
for this area of the site, as depicted on a number of cartographic sources.
In addition, to these features, a number of structural remains were also revealed.
One of these was an east-west aligned wall which may correspond to a garden wall
depicted on a 17th century engraving of the city, and be of medieval origin - the
relationship between this structure and the garden soils mentioned above was
unclear. The remaining structures are likely to correlate to outbuildings in the
Kitchen courtyard which are shown on the 19th century OS 1st edition map.
Actions (login required)