Clarke, G (2015) The Star Inn, Wenhaston, Suffolk. [Client Report] (Submitted)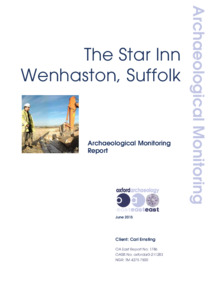 Preview
PDF




XSFTSI15_Report_1786_LR.pdf


Available under License Creative Commons Attribution Non-commercial Share Alike.
Download (893kB) | Preview
Abstract
On the 12th May 2015, Oxford Archaeology East carried out archaeological monitoring at The Star Inn, Hall Road, Wenhaston, Suffolk (TM 4275 7500). The monitoring was carried out during the ground works associated with the construction of a new garage adjacent to the Inn.
An 11m x 5m area was excavated within the development area and revealed seven pits and four post holes. Five of these pits were excavated, three of which yielded artefacts of post-medieval/modern date including pottery sherds, tile and brick fragments.
The natural land surface to the north of The Star Inn was observed to be truncated. The site lay towards the southern end of a substantial old excavation extending into the slope of the rising ground to the north of The Star Inn. This excavation probably represents quarrying of the underlying Crag Sand which outcrops with no overlying superficial deposits in this part of the village. The truncation of the old land surface and levelling of the ground associated with the construction of The Star Inn and car park may account for the lack of remains found on site pre-dating the modern period.
The evaluation at The Star Inn, Wenhaston, Suffolk has demonstrated that no archaeological deposits or artefacts of significance are present on this site despite the proximity of significant artefact scatters of Roman and Saxon finds to the east of Hall Road.
Actions (login required)