Atkins, Robert (2015) Land at Bennell Farm, West Street, Comberton (within Toft parish), Cambridgeshire. [Client Report] (Submitted)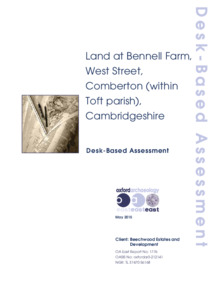 Preview
PDF




Report 1776_LR.pdf


Available under License Creative Commons Attribution Share Alike.
Download (1MB) | Preview
Abstract
In May 2015 Oxford Archaeology East (OA East) were commissioned by Pegasus Group on behalf of Beechwood Estates and Development to undertake a desk-based assessment in advance of a proposed planning application for the construction of 90 houses, a football pitch, changing facilities and a parking area on 6.27ha of land just north-west of Comberton village in Toft parish. The land presently comprises a pasture field for Bennell Farm.
A 1km-radius search of the area around the proposed development area (PDA) was carried using records from Cambridgeshire HER, in addition cartographic and historic sources were researched at the Cambridgeshire Records Office. The closest records for prehistoric to Romano-British remains (including undated cropmarks) lie at a distance of more than 200m from the site. No Anglo-Saxon remains were found within the search area.
It is possible that medieval occupational remains extended up to the PDA on its eastern border as closes were recorded here on the pre-Enclosure (1812) map and these may represent a continuation of settlement from Comberton village into Toft parish. This 1812 map shows the PDA as part of a large arable field but given the proximity of likely occupation, it is possible that there had been houses within the PDA fronting Comberton Road in the medieval period and that these were later abandoned and the site reverted to agriculture. It is likely the rear part of the site (and possibly the whole site) had been used as fields in the medieval period, given the presence of remnants of north to south furrows recorded 200m to the north and south of the PDA. Maps for the last 200 years show the site being used as field(s).
Actions (login required)