Tsybaeva, Daria (2015) Test Pit Evaluation at Swavesey Priory, Swavesey, Cambridgeshire. [Client Report] (Unpublished)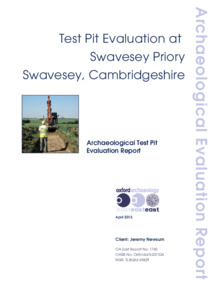 Preview
PDF




SWASWP15_Report_1760_LR.pdf


Available under License Creative Commons Attribution Share Alike.
Download (7MB) | Preview
Abstract
In March 2015 Oxford Archaeology East (OA East) undertook a test pit evaluation, on behalf of Jeremy Newsum and English Heritage, on the earthwork remains of Swavesey Priory (SM 38; TL36262 69429) in advance of tree planting. Five test pits were excavated: two 1.5m x 1.5m dug by OA East and a further three 1m x 1m test pits were excavated with the help of students and a teacher from Perse Archaeology Group.
Test pits were excavated to a depth of between 0.3m and 0.9m and generally encountered layers of topsoil overlying subsoil or similar deposits. The test pits were excavated and backfilled by hand. The natural was not reached during excavation (except possibly in Test Pit 2), and no definite archaeological features were encountered. A few finds of mixed date (prehistoric, Roman, medieval and post-medieval) were retrieved. The thickness of some of the lower deposits and the mixed date of the finds, notably in Test Pit 5, may indicate that the test pits were located within a large feature (or features) such as a ditch or quarry. Quarrying for sand and gravel is known to have occurred in the field during the 19th century, when the Swavesey to Over Road (Station Road) was constructed immediately adjacent to the site, and more recently during the early to mid 20th century.
The results indicate that the proposed tree planting is likely to have a minimum effect on any buried archaeology in the area.
Actions (login required)