Biddulph, Edward and Simmonds, Andrew and Leader, Paul and King, Laura M25 DBFO Widening Section 4 Post-excavation assessment and project design. [Client Report] (Unpublished)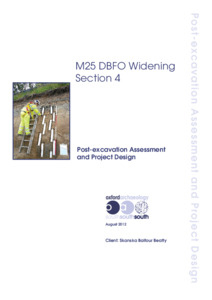 Preview
PDF




M25_section4_PX_assessment_report_submitted_version.pdf


Download (26MB) | Preview
Abstract
Abstract
Oxford Archaeology carried out a programme of archaeological strip, map and sample recording (SMS) on behalf of Skanska Balfour Beatty on land to either side of the M25 carriageway between Junctions 27 and 30 as part of the M25 Widening Scheme (Section 4). A total of 29 sites were investigated.
Principal sites were identified at Hobbs Hole (Junction 29) and Passingford Bridge, although significant archaeological remains were also uncovered at Upminster Bund and Codham Hall Bund. In addition, potentially important, though apparently isolated, cremation burials and charcoal-filled pits were recorded at ponds 1609, 1615, 1605, 1683, 1824 and 1835.
At Hobbs Hole, prehistoric features relating to land clearance and possible field boundaries were uncovered. Formal land division relating to the Roman period was recorded, as well as associated waterholes and possible clay quarries. A number of cremation burials may also belong to this period. Early Saxon sherds were collected from the upper fills of features across the site, though the character of any Saxon occupation is difficult to define.
Passingford Bridge contained a late Neolithic/early Bronze Age ring ditch on the flood plain of the River Roding. A later post avenue, possibly of Bronze Age date, was aligned upon it and extended across the centre of the monument. A late Iron Age settlement of four or five circular structures was recorded, associated with curvilinear enclosures, pits, waterholes and quarries. There was continued occupation into the early Roman period and more limited late Roman remains.
Significant archaeological remains recorded at Upminster Bund included a pit alignment provisionally dated to the Bronze Age. This may have formed a boundary. Sequences of Roman-period and medieval ditches and boundaries were uncovered at Codham Hall Bund.
Widening of the M25 through the Belhus Cutting between J29 and J30 cut through the Corbets Tey Pleistocene Formation, revealing an interglacial channel filled with organic-rich sands and silts, rich in a range of palaeo-environmental remains, namely plant macro remains, pollen, insects, molluscs, small vertebrates and ostracods. A lithic artefact indicative of contemporary hominin occupation in the vicinity was found in one of the lower beds of the channel. There have been previous finds of lithic artefacts (including two handaxes) from gravel deposits capping the channel. The channel is thought to represent the interglacial of MIS 9, dating to between c 350,000 and 300,000 BP (years Before Present).
This assessment presents the preliminary findings of the fieldwork, and specifies what further post-excavation recording and analysis is required. It assesses the potential of the results to address research questions and contribute to a better understanding of the region's prehistoric, Roman and post-Roman landscapes.
Actions (login required)