Rees, Gareth (2015) Iron Age and Roman settlement on land adjacent to the Peterborough Gas Compressor Station, Glinton, Cambridgeshire. [Client Report] (Unpublished)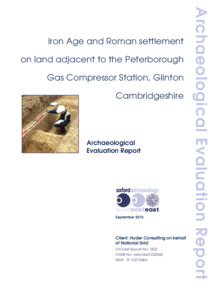 Preview
PDF




GLIPCS15_Report1822_LR.pdf


Available under License Creative Commons Attribution Share Alike.
Download (4MB) | Preview
Abstract
Between the 3rd and the 7th August 2015 Oxford Archaeology East carried out an archaeological evaluation on land adjacent to the Peterborough Gas Compressor Station, Glinton (TF 1527 0465), in advance of the proposed extension of the compressor station.
The investigated area of 5.3ha lay in the southern part of a field bounded by the Gas Compressor Station to the west, the access road to the south and Gasworks Road to the east. A geophysical survey undertaken prior to the evaluation identified several linear and discrete anomalies. Linear anomalies identified at the north of the site were interpreted as a possible enclosure whilst those to the south were thought to represent to the remains of a Late Iron Age or Roman 'ladder' settlement. Four substantial discrete anomalies, perhaps suggestive of areas of intense heating, were also identified across the proposed development area.
A total of twelve evaluation trenches were opened targeting the linear anomalies to the north and south of the site, three of the discrete anomalies and several anomalies thought to be recent field boundaries or drainage. Two trenches were located in the centre of the field in areas where no major anomalies were identified.
Features dating predominantly to the Early to Middle Iron Age were uncovered at the north of the site, in Trenches 1, 2 and 5, where linear anomalies proved to be enclosure ditches and a large discrete anomaly to the south may have been a waterhole. This feature, along with the recovery of charred wheat and barley grains and animal bone may indicate a pastoral economy on the site at this time. A single piece of smithing slag recovered from the base of the waterhole as well as two fragments of human bone may be indicative of more complex activities taking place in the area.
A later settlement, dating to the Middle to Late Roman period, was uncovered at the south of the proposed development area, in Trench 4 and 11. Two of these ditches may relate to a sub-rectangular enclosure known from aerial photographs. Finds from this area, including an antoninianus coin of Diocletian, dated to the 3rd to 4th century AD. A posthole at the northern end of Trench 5 may also have dated to this period.
Boundary ditches, dating to the medieval period or later, were uncovered in Trenches 6 and 8, whilst two modern pits were uncovered in Trenches 7 and 11. Linear anomalies identified in Trenches 10 and 11 proved to be post-medieval or modern field drains.
Actions (login required)