Pooley, Ashley and Phillips, Tom and Haskins, Anthony and Nicholls, Kathryn (2015) Norwich Northern Distributor Road (NNDR) and Heath Farm. Archaeological Evaluation Report Volume 2: Illustrations. [Client Report] (Unpublished)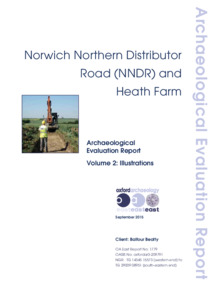 Preview
PDF




XNFNDR15_Report_1779_Volume_2_LR.pdf


Available under License Creative Commons Attribution Share Alike.
Download (13MB) | Preview
Abstract
Between 27th April and 29th May 2015 Oxford Archaeology East carried out an evaluation along the route of the proposed Norwich Northern Distributor Road (NNDR), with an additional phase of work carried out between 24th and 27th August 2015. The evaluation comprised the excavation of 431 trenches spread across 31 fields or areas, targeted on cropmark and geophysical survey results, and along the entire route of approximately 20km. The western end of the route was located in the parish of Felthorpe (TG 14345 15573), while the south-eastern end was at Heath Farm in the parish of Postwick (TG 29009 08951). The route passes through predominantly gently undulating arable land to the north and east of Norwich, between the valleys of the River Yare and Wensum to the south and River Bure to the north.
The evaluation revealed archaeological remains from multiple periods, with prehistoric and medieval remains predominating.
Prehistoric activity was represented across several fields, much of which appears to be of Bronze Age date. A cluster of Bronze Age sites was identified in fields H3-4, H5, H7 and H8 - all within Horsford parish towards the western end of the scheme. This included a rectangular enclosure that extended over fields H3-4 and H5. The main find type associated with this was burnt flint (perhaps associated with a burnt flint mound), and it may be that the enclosure was used for specialist or industrial activities. Relatively large quantities of burnt flint were also recovered from a large hollow or waterhole in the east of field H7, which may also indicate the presence of a burnt flint mound in the vicinity. Another intriguing but relatively discrete feature was a seemingly L-shaped enclosure in field H8 that was not dissimilar to the enclosure in H3-4. The small quantity of pottery recovered indicates an Early Bronze Age for this enclosure, which may have had a more domestic function compared to that in H3-4. A large north-east to south-west aligned ditch revealed in field T7 in Taverham could well be a long-running later prehistoric boundary and if so is a significant discovery. Nearby, in field T8, a fragment of a stone macehead was discovered in the topsoil.
The general lack of Roman sites in the fields evaluated is in itself worth noting. The western side of an Early Roman enclosure or group of enclosures falls inside the proposed development area in field H5 in Horsford. Not far to the east, in fields H7 and H8, there were hints of Roman agricultural activity, evidenced by several scattered ditches with rare inclusions of Roman pottery. A discrete area of Late Roman activity was also found in Spixworth, field S4, while a group of four postholes in the same field presumably represent structures and may indicate settlement in the vicinity. No definite Anglo-Saxon features were identified by the evaluation.
The medieval period is perhaps the best represented period, with at least nine fields (T7, S16, C1, R1, G4, G5, G6, G7 and P1) containing remains of this date, including agricultural field-systems, enclosures (often associated with adjacent lanes such as in T7), buildings and evidence of specialist activities, notably ironworking. In field S16, adjacent to Beeston Lane in Spixworth, there were two main areas of archaeological activity, one on either side of a low-lying dry channel which extended east to west in the eastern part of the field. To the north, an area measuring c. 0.5 hectares contained at least one flint-built structure; evidence of a second building was also found, while a number of associated ditches may have formed fields or enclosures. An area of metalworking represented by a pit /furnace, a flue-like feature and substantial deposits of tapping slag was identified to the south of the low-lying area, on the north-facing slope. Significantly, a second and more clearly defined furnace was discovered in field R1 at Rackheath. In field C1 a small enclosure, identified in the geophysical survey, also proved to be medieval in date.
Towards the eastern end of the route, in Great Plumstead, there was a large area of cropmarks representing a network of former fields and trackways. Part of this cropmark complex falls within the proposed route and was targeted in fields G4, G5 and G6. After evaluation much of this has proved to be medieval and post-medieval in date. A very large enclosure, which enclosed an area measuring c. 7 ha, was revealed in G5, with the southern section extending into G6. In field G6 the southern side of the enclosure was curvilinear and consisted of two parallel ditches, between which was a metalled trackway. In Postwick, field P1 targeted another set of cropmark enclosures, covering at least 1 ha, which again proved to be medieval in date.
Despite the scale of the evaluation, the finds and environmental assemblages recovered from the various sites are generally of small to moderate size. Pottery of prehistoric (62 sherds weighing 391g), Roman (114 sherds weighing 1046g), and post-Roman (356 sherds weighing 3439g) date was recovered along with a scatter of metal objects, glass, stone (some from quern or millstones), flint (burnt and struck), ceramic building material and a significant group of metalworking debris (c.24kg). The environmental samples have indicated some areas of archaeobotanical potential, with fields H4, H8, D2-3, C1, P1 and S16 producing charred plant remains: the most productive site being H4 where two postholes contained well-preserved barley grains mixed with prehistoric hulled wheat varieties and flax. Several of the sites along the proposed route produced deposits that are extremely rich in charcoal.
Actions (login required)