Loe, Louise St Paul's Church Hammersmith Borough of Hammersmith and Fulham. [Client Report] (Unpublished)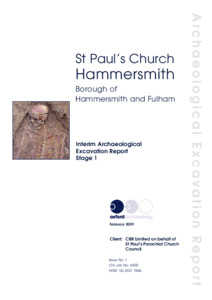 Preview
PDF




PQC09_stage1_PdfA.pdf


Download (4MB) | Preview
Abstract
Between the 5th and 26th of January 2009, Oxford Archaeology (OA) undertook an
archaeological excavation in the western churchyard of St Paul's Church, Hammersmith, for
CBR Limited on behalf of the Parochial Church Council of St Paul (PCC). These works were
undertaken in advance of a proposed extension to the church, and comprised the first stage of
archaeological excavation (Stage 1), in which approximately 10% of the total area of the
footprint of the proposed construction was excavated. Stage 1 was undertaken in order to
ascertain the nature and scale of burial. This information will be central to the formulation of
an appropriate archaeological mitigation strategy for the remaining works.
An area of 60.3 m² was excavated to a maximum depth of 4 m, and all archaeology within the
trench was recorded and removed. This comprised 80 articulated coffined burials dating to
the early Victorian period (1828-1853). The skeletons were osteologically analysed on site,
and are currently stored in the tower of St Paul's Church, with artefacts retrieved during the
excavation. This interim report describes the archaeology, assesses its potential, reviews the
methodologies employed and makes recommendations for future fieldwork and osteological
approaches to the project.
Actions (login required)