Phillips, Tom and Green, Michael (2014) Field End, Witchford. [Client Report] (Unpublished)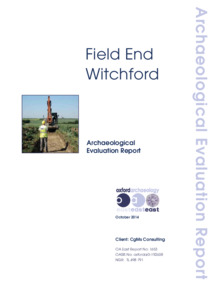 Preview
PDF




WFDFEN14_report 1653_LR.pdf


Available under License Creative Commons Attribution Share Alike.
Download (3MB) | Preview
Abstract
A trial trench evaluation was carried out by Oxford Archaeology East (OA East) at Field End, Witchford, Cambridgeshire (TL 498 791). Prior to fieldwork a geophysical survey had taken place, which showed that medieval ridge and furrow extended over the entire site. The fieldwork was conducted in two stages; trenches 1 – 3 in Field A were excavated on 18th August 2014 and trenches 4 – 18 were excavated in Field B between 29th September – 2nd October 2014.
Within Field A the only features were two pits in trench 3, one of which contained Early Iron Age pottery and a large assemblage of animal bone. In Field B there were two concentrations of archaeological activity. The most interesting was the discovery of a cemetery in trenches 9 and 18. Initially five cremation burials (plus a possible sixth cremation) and a single inhumation burial were identified in the centre of trench 9. Subsequently, trench 18 was excavated to determine the extent of the cemetery. A further five cremation burials were discovered in the western end of trench 18. The burials extended over an area of c. 6.5m east to west but no more than 3.5m north to south. The cremations appeared to be un-urned and no finds could be seen on the surface of any of them. Determining a date for the cemetery is difficult at this stage, although there is no reason why the cemetery could not be broadly contemporary with the small number of Early Iron Age features in the field.
Secondly, in trench 6 there was a small group of features comprising a large posthole, two further possible postholes and a tree throw, all containing a dark silty clay fill. In total eight sherds of Early Iron Age pottery were recovered from this group of features.
Other features in Field B were isolated. A large hollow in trench 12 contained six sherds of Early and Middle Iron Age pottery, while a tree throw in trench 5 contained two small sherds of Middle Iron Age pottery. The only evidence for a field system or any form of land division were narrow undated ditches in trenches 4, 8, 10 and 17.
Actions (login required)