Fletcher, Taleyna (2013) Land north of Snowley Park, Whittlesey, Cambridgeshire. [Client Report] (Unpublished)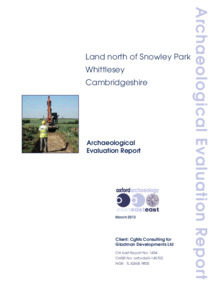 Preview
PDF




Report 1454_final_LR.pdf


Available under License Creative Commons Attribution Share Alike.
Download (1MB) | Preview
Abstract
Between the 11th and 14th of March 2013, Oxford Archaeology East conducted an archaeological evaluation on land north of Snowley Park on the north-west side of Whittlesey, Cambridgeshire.
The site is located on the northern side of a modern housing development on waste ground covered with shrubs, small trees and grasses. Historic maps indicate that the site has not been in use for the past 150 years, other than as part of Glenfields Nursery during the 1970s.
The evaluation consisted of 20 machine excavated trenches across two fields, separated by a north-south orientated drainage ditch. All trenches were 50m in length and orientated north-south or east-west.
The evaluation revealed two contemporary ditches in the western field (Field 1). Together these ditches may represent a boundary of a former small field system. Although undated, these may represent continuation of the Iron Age activity recorded at Stonald Field excavations in the adjacent eastern field during 2008. Despite 100% excavation and investigation in a second parallel trench, no dating evidence was retrieved. A ditch terminus was also recorded in this field which contained burnt stones, again, despite excavation, no dating evidence was recovered.
Three postholes and two shallow quarry pits were investigated within Field 2 in the north-eastern corner of the site. Both of these feature groups contained post-medieval finds including clay pipe, pottery and glass.
A series of parallel furrows were also noted, surviving on the slightly higher and less truncated parts of the site. These were orientated north to south. A single sherd of 13th/14th century pottery recovered from one of these furrows confirms a medieval date. There is a possible suggestion of a headland at the southern edge of the site where a significant depth of subsoil was noted in Trench 8.
No evidence of the continuation of the Iron Age or Bronze Age activity recorded at Stonald Field to the immediate east was identified during this evaluation. Targeted trenches were investigated with an aim to pick up the continuation of the Iron Age enclosure investigated in 2008, however it was not found to be present.
The presence of furrows across the site indicates that agricultural practices have resulted in the loss of some sub-soil, especially in the eastern field. However, the lack of finds within the topsoil, survival of some subsoil and a small boundary ditch on the eastern side of the investigation area would suggest that archaeological features have not been lost through farming and that this area has remained, on the whole, uninhabited.
Actions (login required)