Thatcher, Chris (2010) Multi period remains at Hampden House, Temple Close, Huntingdon. [Client Report] (Unpublished)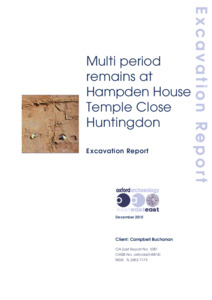 Preview
PDF




Report_1087_LR.pdf


Available under License Creative Commons Attribution Share Alike.
Download (973kB) | Preview
Abstract
Between August and September 2008 Oxford Archaeology East carried out an excavation at Hampden House, 21 Temple Close, Huntingdon (centred on TL 2435 7173).
The excavation revealed a sequence of occupation dating from the Prehistoric period through to the Later Medieval period. The Prehistoric and Roman remains were severely truncated across most of the development area but had been preserved in the centre of the site beneath a putative bank constructed during the later Saxon period. The surviving remains included the remnant of a Late Roman building whose finds assemblage suggested that it may have served as a mill or ancillary structure such as a barn. There was evidence that this structure had been demolished by fire.
The Late Saxon sequence comprised the earliest in a series of large ditches thought to serve either as an attempt to drain the marginal land to the north of the site or as a defensive boundary. There was evidence that the earliest of these features was banked and could potentially represent part of the line of the Danish burh, whose exact location has never been established.
Also of note was evidence for a Late Saxon kiln in the locality in the form of a large assemblage of pottery recovered from an ash-laden pit in the northern part of the development area.
During the Medieval period the site appears to have served an agricultural and/or light industrial function, up until the Late Medieval/Post Medieval period when the urban settlement encroached upon the development site.
Item Type:
Client Report
Uncontrolled Keywords:
archaeological excavation, cambridgeshire, huntingdon, huntingdonshire, hampden house, temple close, pottery, roman, saxon pottery, medieval pottery, sunken featured building, sfb, multi-period
Subjects:
Geographical Areas > English Counties > Cambridgeshire
Period > UK Periods > Early Medieval 410 - 1066 AD
Period > UK Periods > Iron Age 800 BC - 43 AD > Late Iron Age 100 BC - 43 AD
Period > UK Periods > Medieval 1066 - 1540 AD
Period > UK Periods > Roman 43 - 410 AD
Divisions:
Oxford Archaeology East
Depositing User:

Chris Faine

Date Deposited:
04 Nov 2015 11:15
Last Modified:
04 Nov 2015 11:15
URI:
http://eprints.oxfordarchaeology.com/id/eprint/2643
Actions (login required)