Clarke, G (2015) Land at Bartlow Road, Linton, Cambridgeshire. [Client Report] (Unpublished)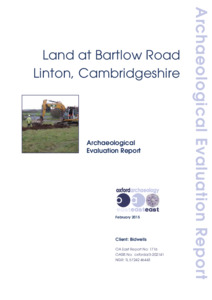 Preview
PDF




LINBAR14_Report_1716_LR.pdf


Available under License Creative Commons Attribution Share Alike.
Download (14MB) | Preview
Abstract
Between 27th November and 12th December 2014, Oxford Archaeology East (OA East) carried out an archaeological evaluation on Land at Bartlow Road, Linton, Cambridgeshire. Twenty-one evaluation trenches were excavated across the site, which encompassed two fields (c.4.5ha) located on the eastern edge of the village of Linton.
A detailed magnetometer survey of the site was carried out by Bartlett-Clark Consultancy in advance of the evaluation. This survey was found to provide an accurate prediction of the below ground features that were subsequently encountered on site during the evaluation. Interpretation of these features has been refined and altered by the results of the targeted evaluation trenches. Few features of archaeological origin were identified in the northern field. The linear and discrete archaeological anomalies in the southern field were found to be ditched boundaries and pits/quarries of mostly medieval origin, possibly associated with a former trackway that once linked the villages of Bartlow and Linton.
Of particular note was the discovery of an Early Saxon sunken floored building with other possibly associated features, including a pit and postholes, that were revealed in the north-west part of the southern field close to Bartlow Road.
A moderate finds assemblage, including Saxon and medieval pottery, animal bone, CBM and quernstone fragments was recovered, while environmental samples indicate that there is excellent potential for the recovery of charred and mineralised plant and insect remains from Saxon and medieval deposits.
Despite the proximity of Linton Roman villa and walled cemetery to the south and a Saxon inhumation cemetery to the north, the evaluation of the site has indicated that no archaeological features directly relating to these monuments are present on this site. However, a background scatter of ceramic building material of Roman date was found across the southern field that probably derived from the villa. The flint assemblage provides further evidence of activity along the River Granta in the Mesolithic and Early Neolithic periods.
Item Type:
Client Report
Uncontrolled Keywords:
archaeological evaluation, cambridgeshire, Linton, geophysical survey, sunken featured building, sfb, mettled surface, road, saxon, early medieval, medieval, roman, roman CBM, medieval pottery
Subjects:
Geographical Areas > English Counties > Cambridgeshire
Period > UK Periods > Early Medieval 410 - 1066 AD
Period > UK Periods > Medieval 1066 - 1540 AD
Period > UK Periods > Roman 43 - 410 AD
Divisions:
Oxford Archaeology East
Depositing User:

Chris Faine

Date Deposited:
04 Nov 2015 11:58
Last Modified:
04 Nov 2015 11:58
URI:
http://eprints.oxfordarchaeology.com/id/eprint/2644
Actions (login required)