Gilmour, Nick (2009) Early Medieval structures and Medieval Activity: Archaeological Excavations at the Old Music and Drama Centre, Brookside, Huntingdon. [Client Report] (Unpublished)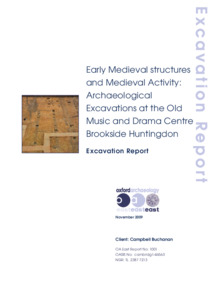 Preview
PDF




report 1001_april_2012_lr.pdf


Available under License Creative Commons Attribution Share Alike.
Download (5MB) | Preview
Abstract
OA East (formerly CAM ARC, Cambridgeshire County Council) carried out an archaeological excavation on land formally occupied by the music and drama centre, Brookside, Huntingdon during October and November 2007. This was carried out in advance of the construction of new domestic dwellings by Campbell Buchanan.
The excavation revealed possible prehistoric activity together with a small amount of residual Roman pottery. Alongside this, medieval features of the 11th-14th centuries
including a substantial fenced and ditched boundary, which may represent the edge of the lands of Huntingdon Priory, were recorded. Outside of this boundary and adjacent to the point where the road to Abbots Ripton crossed the medieval town ditch, a sequence of incomplete foundation plans of timber structures may represent two or more buildings of differing dates along with fence lines.
Inside the boundary that possibly delimited the Priory lands were more complete foundations plans of two timber buildings of early medieval date (later 11th - 12th
century). One simpler post-built building was sited within a large enclosure may have been for stock or for agricultural storage. A second more substantial building,
which lay within a small plot that fronted the town ditch and from which there was access to both the priory lands and the road outside, probably had a domestic function and might have been associated with the management of the Priory's estate. Contemporary documents mention buildings for the Sacrist and also an Infirmary in addition to the church and convent. These would have lain within the outer court and the excavated buildings might be associated with such functions.
Item Type:
Client Report
Uncontrolled Keywords:
archaeological excavation, cambridgeshire, huntingdonshire, huntingdon, medieval, pottery, early medieval pottery, medieval pottery, struck flints, faunal remains, medieval structures, early medieval structures, Huntingdon Priory
Subjects:
Geographical Areas > English Counties > Cambridgeshire
Period > UK Periods > Early Medieval 410 - 1066 AD
Period > UK Periods > Medieval 1066 - 1540 AD
Divisions:
Oxford Archaeology East
Depositing User:

Chris Faine

Date Deposited:
09 Nov 2015 10:38
Last Modified:
09 Nov 2015 10:38
URI:
http://eprints.oxfordarchaeology.com/id/eprint/2659
Actions (login required)