Clarke, Rachel and Webster, Michael (2011) Undated ditches, medieval deposits and structural evidence and post-medieval layers at Chequers Court Car Park, Huntingdon. [Client Report] (Unpublished)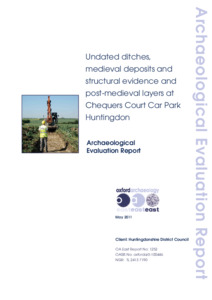 Preview
PDF




Report 1252.pdf


Available under License Creative Commons Attribution Share Alike.
Download (121MB) | Preview
Abstract
An archaeological evaluation was carried out by OA East at Chequers Court car park, Huntingdon (TL 2413 7190) within the footprint of a proposed new multi-storey car park. The evaluation consisted of two 4m x 4m test pits located within the proposed development area, in car parks adjacent to Sainsbury's supermarket, which was subject to a programme of archaeological investigation in 1999.
This evaluation, although limited in nature, has confirmed the presence of well preserved, stratified archaeological deposits and features spanning the premedieval to post-medieval periods within the proposed redevelopment area. This part of Huntingdon appears to have been fairly open, marginal land prone to flooding in the centuries pre-dating the Norman conquest, indicated by flood deposits and the cutting of drainage and/or boundary ditches; the latter are undated.
There is good evidence for the northwards expansion of the medieval town in the 'high medieval' period, represented by the appearance of timber structures and pits in the south of the site (Test Pit 2). Tentative evidence for industrial and domestic activities being undertaken in the vicinity, comprising low-level blacksmithing, butchery and food-preparation, was recovered from the pits. The eventual decline and contraction of the town during the later medieval and early post-medieval periods is again illustrated by extensive cultivation soils recorded in both test pits. This was followed by limited redevelopment of the southern part of the site in the late 17th or early 18th centuries suggested by the construction of brick wall foundations and a substantial post-hole.
These results, especially when combined with those from the adjacent St Germain Street site, provide significant evidence for the origins, early development, expansion and subsequent decline of Huntingdon. The evaluation has demonstrated the presence of a sequence of deposits and features that are very reminiscent of remains recorded elsewhere in Huntingdon, notably as part of the Huntingdon Town Centre Project.
A small but typical finds assemblage was recovered, comprising a worked flint, Saxon, medieval and post-medieval pottery, fired clay, post-medieval brick and tile, clay tobacco pipe, glass and butchered animal bone. The bulk samples indicate that there is potential for the recovery of plant remains on the site. The presence of a single sherd of Middle Saxon pottery, residual in a later feature, is a relatively uncommon find in the town and complements the single sherd of a similar date recovered from the adjacent St Germain Street site.
Item Type:
Client Report
Uncontrolled Keywords:
archaeological evaluation, cambridgeshire, huntingdonshire, huntingdon, medieval, medieval huntingdon, butchery assemblage, blacksmithing, test pit, pottery, saxon pottery, post-medieval pottery, medieval pottery
Subjects:
Geographical Areas > English Counties > Cambridgeshire
Period > UK Periods > Early Medieval 410 - 1066 AD
Period > UK Periods > Medieval 1066 - 1540 AD
Period > UK Periods > Post Medieval 1540 - 1901 AD
Divisions:
Oxford Archaeology East
Depositing User:

Chris Faine

Date Deposited:
10 Nov 2015 13:13
Last Modified:
10 Nov 2015 13:13
URI:
http://eprints.oxfordarchaeology.com/id/eprint/2664
Actions (login required)