Thatcher, Chris (2013) Medieval Drainage and Cultivation at Chequers Court, Huntingdon. [Client Report] (Unpublished)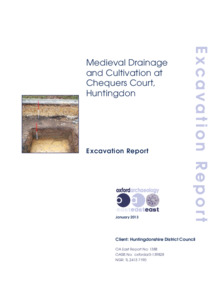 Preview
PDF




Report_1388_FINAL_lr.pdf


Available under License Creative Commons Attribution Share Alike.
Download (5MB) | Preview
Abstract
Two phases of archaeological works were carried within the footprint of a proposed new multi-storey car park at Chequers Court car park, Huntingdon between 21st and 29th March 2011 and the 14th November 2011 and 2nd March 2012.
A total of ten discrete areas were investigated revealing a sequence of well stratified features and deposits that spanned the pre-medieval to post medieval periods.
Although no Saxon features could be confidently identified on site a number of undated but stratigraphically earlier ditches and a small assemblage of Mid to Late Saxon pottery recovered from later features, demonstrated that the site lay close to an area of Saxon habitation.
There was a marked increase in activity during the 12th to 14th century, characterised by the establishment and maintenance of a series of substantial drainage ditches. The preservation of possible bank material or a medieval cultivation layer between these ditches, in conjunction with the finds and environmental evidence, suggests that during this time the site was cultivated. The drainage of the site, in order to make it viable for agricultural purposes, clearly required a significant investment of energy and this may have been necessitated by the demand for food from the growing population of the town, which was expanding rapidly during the 'high medieval' period.
Evidence for the expansion of the town was recorded in the southern part of the site where pits, post holes and shallow gullies were found that are typical of the types of feature found in the back plots of buildings.
The decline of the town in the aftermath of the Black death was also in evidence with the abandonment of the drainage ditches and slow accumulation of layers of relatively sterile soil layers. A slight increase in activity during the 17th century was noted in the form of two brick built wall foundations that may have been associated with a path or a small ancillary structure.
Actions (login required)