Simmonds, Andrew Nene Valley wetlands power line cable installation Irthlingborough Northamptonshire. [Client Report] (Unpublished)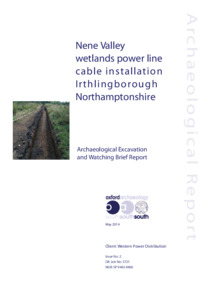 Preview
PDF




IRNVW13_PdfA.pdf


Download (4MB) | Preview
Abstract
Oxford Archaeology was commissioned by Western Power Distribution to undertake
a watching brief (Trench 1) and detailed archaeological recording (Trench 2) during
the excavation of a cable trench within the Nene Valley at Irthlingborough,
Northamptonshire. The excavation Trench 2 exposed a transect across part of an
extensive area of Iron Age-early Roman settlement that had been previously
identified in this part of the valley.
Excavation was limited to the impact depth of the cable trench although features
exposed at the base of this in Trench 2 below layers of alluvium were fully
investigated where practicable. Trench 1 was excavated along the embankment of
the disused branch rail line that had joined the former Ebbw Vale Iron Ore Works to
the Peterborough-Northampton main line and revealed only layers of made ground
associated with the construction of the embankment.
The Iron Age-early Roman settlement remains were characterised by ditches and
pits, with a small number of features that may have been postholes. The ceramic
evidence indicated that activity spanned the middle Iron Age to the early Roman
period, with a peak in activity during the 1st century AD. There was no positive
evidence for activity later than the 2nd century. A single pit was cut through the
lower part of the alluvium that overlay the majority of the other features and
provided evidence that there were at least two phases of activity, separated by an
alluvial episode.
Actions (login required)