Phelps, Andy (2015) Barnes Hospital, Cheadle, Stockport, Greater Manchester - Evaluation. Project Report. OA North. (Unpublished)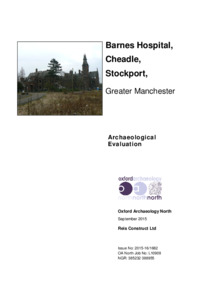 Preview
PDF




Barnes Hospital, Cheadle_Archaeological Evaluation Report.pdf


Download (6MB) | Preview
Abstract
Barnes Village Ltd has obtained planning permission to redevelop the former Barnes
Hospital and its associated grounds in Cheadle, near Stockport (NGR 385232,
388955). The development proposal allows for the refurbishment of the hospital
building, which is afforded statutory designation as a Grade II listed building, together
with the erection of new housing. The new build will comprise housing within the
grounds encompassing the hospital building. The proposed construction works will
necessitate considerable earth-moving works, which have some potential to damage or
destroy buried archaeological remains.
A desk-based study carried out to support the planning application concluded that the
site has some potential to contain buried remains of archaeological interest, including
the projected line of the Roman road from Cheadle to Buxton, which takes a course
across the north-eastern corner of the site. In addition, artefacts of prehistoric, Roman,
and early medieval date have been discovered within the immediate vicinity, raising
the possibility that other buried artefacts of archaeological interest may survive within
the site boundary.
In the light of these conclusions, the Greater Manchester Archaeological Advisory
Service (GMAAS), which provides archaeological advice to Stockport Council,
recommended that a programme of archaeological investigation of the site was
merited in advance of development, in accordance with the National Planning Policy
Framework, Paragraph 128. In September 2015, Oxford Archaeology North was
commissioned by Reis Construction, acting on behalf of Barnes Village Ltd, to
undertake the specified programme of archaeological evaluation. In total, 12 trenches
were excavated across the study area, coupled with a walk-over survey in the area of
the northern field prior to excavations.
Actions (login required)