Stitt, Lewis (2015) Land at Jersey Street, Ancoats, Manchester - Evaluation Report. Project Report. OA North. (Unpublished)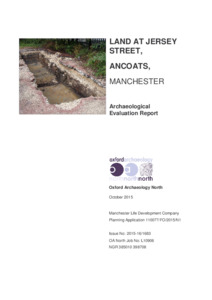 Preview
PDF




Land at Jersey Street, Ancoats_Archaeological Evaluation.pdf


Download (4MB) | Preview
Abstract
Manchester Life Development Company has submitted a planning application (Ref:
110077/FO/2015/N1) for the redevelopment of land bounded by Blossom Street,
Bengal Street, Murray Street and Jersey Street in the Ancoats area of Manchester
(centred at NGR 385010 398708). The proposals allow for the erection of a part
seven- and part eight-storey mixed-use building, comprising ground-floor commercial
units and 158 residential apartments with associated car parking and landscaping
works. The construction works required for the proposed development will necessitate
considerable earth-moving works, whilst an archaeological desk-based assessment
that was prepared to support the planning application concluded that the site had
potential pertaining to the early development of Ancoats as Manchester's first
industrial suburb based on steam power.
In order to secure archaeological interests, the Greater Manchester Archaeological
Advisory Service, in their capacity as archaeological advisor to Manchester City
Council, recommended that it would be appropriate to undertake a programme of
archaeological evaluation to inform the development process, in accordance with the
National Planning Policy Framework, paragraph 141. The programme of work
recommended comprised the excavation of four evaluation trenches, which were
targeted on the footprint of late eighteenth- and early nineteenth-century workers'
housing and buildings associated with a nineteenth-century timber yard.
Actions (login required)