Rees, Gareth (2014) Early medieval and Iron Age activity on land at the proposed East Bilney quarry extension, Norfolk. [Client Report] (Unpublished)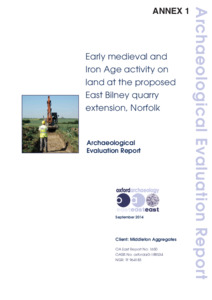 Preview
PDF




Report 1650.pdf


Available under License Creative Commons Attribution Share Alike.
Download (85MB) | Preview
Abstract
Between the 4th and 14th August 2014 Oxford Archaeology East conducted an archaeological evaluation on land to the south of East Bilney at the site of a proposed quarry extension (centred on TF 964 183).
The investigated area lay in three adjacent fields between Field Lane and School Road. A geophysical survey undertaken prior to the archaeological works had identified several linear and discrete anomalies which were interpreted as furrows and ditches which may have formed an enclosure at the north of the site. A total of 30 trial trenches were excavated over a 1.9ha area. These trenches were targeted over the geophysical anomalies as well as in areas where no anomalies were identified in order to test the reliability of the geophysics results.
All but one of the linear features identified by the geophysical survey were uncovered during the evaluation. Several postholes as well as large pits thought to be quarries, were also uncovered. A small ditched enclosure located to the north of the central field dated to the early medieval period and appeared to bound an area of quarrying.
A second area of activity was located at the south-west of the central field in Trench 11. This consisted of four postholes, which may have been part of a round house, and a pit. All of these features dated to the Iron Age and may have been part of a settlement from this period.
The proposed limit of gravel extraction is located to the east of the investigated area, taking in part of the western field and the south-western part of the middle field. This area includes Trench 1 to 15. The vast majority of archaeology identified in the evaluation trenches lies within the area that will now be outside the revised limits of extraction (Trenches 16-29).
Actions (login required)