Bush, Louise (2016) Waterbeach New Settlement: The Former Barracks and Airfield, Waterbeach, Cambridgeshire. [Client Report] (Unpublished)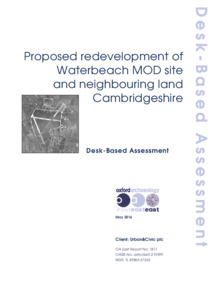 Preview
PDF




Waterbeach DBA_160516_LR.pdf


Available under License Creative Commons Attribution Share Alike.
Download (9MB) | Preview
Abstract
Oxford Archaeology East has been commissioned by Urban & Civic plc to undertake a desk-based assessment on 430 hectares of land immediately north of Waterbeach, Cambridgeshire (centred on NGR 549865, 267263), in order to assess the archaeological resource of the Site and the surrounding landscape.
The proposed development, referred to presently as Waterbeach New Settlement, has a mixture of current land uses. Over half of the Site (292 hectares) is currently occupied by the former Waterbeach barracks and airfield and the eastern extents by agricultural farmland. Immediately north of the Site is the Scheduled Monument and medieval remains of Denny Abbey.
The Site is also bounded on its western side by Car Dyke Roman canal (portions of which are Scheduled Monuments) and the Roman road known as Akeman Street (along which the A10 runs).
Evidence for archaeological remains (in the form of cropmarks, spotfinds and sub-surface remains) from the Lower Palaeolithic through to the modern period have been identified within the 1.5km study area. This evidence is predominantly located across the western and northern portion of the search area on the higher clay geology. Remains of a Roman date are most likely to be present within the Site, with assemblages of Roman pottery, worked stone, coins, other metalwork and human skeletal remains all having been recovered in the past. The eastern portion of the Site is least likely to hold any archaeological remains due to it being located on the periphery of the deeper peat fen.
It is quite likely that potential archaeological remains within the former barracks and airfield have been disturbed to some degree, particularly in the vicinity of the barracks. The airfield itself contains large areas of green space which could hold surviving archaeology.
The airfield was active during the Second World War and as a result there is the potential for military remains on the Site. It is known that a number of military aircraft crashed here. Therefore the potential for aircraft remains and even unexploded ordnance should be considered. The buildings within the barracks, whilst not formally listed are a testament to the Site's military past.
Effects on the historic landscape need to be considered ahead of development, particularly as the Site bounds the Scheduled Monument of Denny Abbey. The setting of these medieval monastic buildings (and the surviving earthworks located in the pasture fields that immediately surround them) form part of a heritage asset that is of high importance. Therefore there is a need to preserve the significance of this asset through appropriate treatment of its setting. This will require consultation with Historic England and the Cambridgeshire County Council Historic Environment Team (CCC HET).
Overall, it can be said that the proposed development of Waterbeach New Settlement has the potential to adversely affect sub-surface archaeological remains.
Actions (login required)