Haskins, Anthony (2012) Field Walking and metal detector survey at Chilton Leys, Stowmarket. [Client Report] (Unpublished)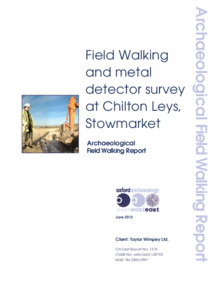 Preview
PDF




Report1375_edit 11july_LR.pdf


Available under License Creative Commons Attribution Share Alike.
Download (818kB) | Preview
Abstract
Field walking was carried out across the proposed development area of Chilton Leys, Stowmarket. The field walking aimed to identify areas of archaeological interest as an aid to evaluation trenching of the area at a later date.
Material from the Late Neolithic to Early Bronze Age through to Medieval date was recovered including a Silver Irish long cross coin, dated to 1280 to 1307AD and a barbed and tanged arrowhead.
Two areas were identified as having a higher concentration of finds than the rest of the field.
Actions (login required)