Clarke, Graeme (2015) An Iron Age Settlement at Land North of Hare Street Road, Buntingford, Hertfordshire. [Client Report] (Unpublished)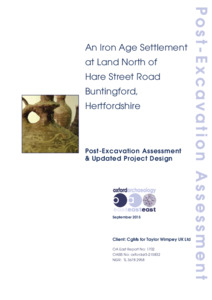 Preview
PDF




Report 1702_LR.pdf


Available under License Creative Commons Attribution Share Alike.
Download (2MB) | Preview
Abstract
Between the 29th September and 11th November 2014 Oxford Archaeology East(OA East) carried out excavations at Land North of Hare Street, Buntingford, Hertfordshire. The proposed excavation initially comprised two areas, each targeting a ditched enclosure revealed during a geophysical survey of the area carried out by Archaeological Services WYAS during a previous phase of work in 2012. An archaeological evaluation was carried out prior to the excavation to establish the presence/absence of archaeological features in areas of the site not previously covered by an evaluation by Northamptonshire Archaeology in 2012 that targeted the enclosures identified by the geophysical survey. Significant Iron Age and Roman archaeological remains were encountered by the evaluation trenching in the southwestern corner of the site in a parcel of land previously used as allotment gardens. Consequently an additional third area of excavation encompassing these remains was agreed upon. Furthermore, upon the completion of the excavation a programme of archaeological monitoring was undertaken between the 8th June and 14th July 2015 during the excavation of an attenuation pond in the western part of the site.
Middle Neolithic remains, including decorated pottery sherds and worked flint flakes, were encountered in two pits at the base of the dry valley and in a palaeochannel running through the site. The excavation identified rural settlement remains, including roundhouses, with an associated system of land division and enclosure originating in the Middle Iron Age and evolving through the Late Iron Age period into the Early Roman period. The latter included ditches forming a Middle Iron Age enclosure system which included a possible stock enclosure. This interpretation is perhaps enforced by the presence inside the enclosure of square four-post structures that may have served as animal feed stores. Late Iron Age remains within and further enclosures that appear to respect the Middle Iron Age remains indicate a continuity of this settlement. Although the Early Roman period witnessed a change in land economy with the introduction of a system of cultivation furrows, one of the Late Iron Age enclosures did appear to be respected. Furthermore, pitting activity in the settlement area continued from the Late Iron Age into the Early Roman period indicating a continuation of occupation at the site across these periods. An additional element of Early Roman land use was also identified, comprising of a zone of marl quarrying pits.
A quantity of Iron Age pottery and kiln furniture was recovered from the site which demonstrate good research potential for these remains in their local and regional context. The pottery recovered indicates that the occupation had ceased by the end of the second century AD. The environmental assemblage including faunal remains was poor in comparison with low research potential. These remains and associated features on the site are evidence for farming predominantly based on cattle in all phases but with no direct evidence of breeding or crop processing.
Actions (login required)