Bush, Louise (2015) Bronze Age post alignments, an Iron Age trackway and a Roman field system on land south of the Bell Language School, Cambridge. [Client Report] (Unpublished)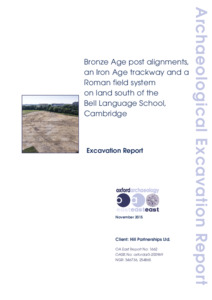 Preview
PDF




Bell School Excavation Report_LR.pdf


Available under License Creative Commons Attribution Share Alike.
Download (11MB) | Preview
Abstract
Between the 12th May and 14th August 2014 Oxford Archaeology East carried out an archaeological excavation on land adjacent to the Bell Language School, Babraham Road, Cambridge in advance of the construction of a mixed development of residential and student accommodation and associated amenities. Two excavation areas totalling 2.37ha were opened within the 7.5ha development area. Archaeological remains ranging in date from the Early Neolithic through to the 19th century were identified. Despite the size of the investigation and extensive archaeological remains, the associated finds assemblage is extremely small, indicating that this area was not directly inhabited. The sparse environmental remains reiterate this interpretation.
The earliest archaeological feature recorded was a tree throw containing an Early Neolithic struck flint assemblage that included a leaf-shaped arrowhead. Residual struck flint was also recovered from later features across the entire site.
Early Bronze Age activity was confined to the north-western corner of the site, where a waterhole, water heating pit and the remnants of a burnt mound were present. Evidence for Middle Bronze Age land use was identified across the site in the form of a north-east to south-west aligned ditched field system, with smaller north-west to south-east aligned internal divisions. This field system is part of a much larger system that extends westward across the Addenbrooke's landscape for a further 0.8km. Two large waterholes were also identified within the field system. One of the most notable elements of the excavation was a series of Bronze Age post alignments, with just over 400 postholes being identified within four different alignments. Each alignment consisted of between one and three parallel rows of posts (with the posts 0.96m apart on average) extending for up to 115m across the site. The function of these alignments is open to interpretation: it seems unlikely that they were simply for land division and it is probable that they had a more monumental association. One of the post alignments was superseded by a pit alignment, initially seen extending parallel with it, but then truncating over the top of it. A north to south aligned ditch ran parallel with one of the post alignments but was not aligned to the Middle Bronze Age field system. A well-constructed Early Iron Age cobbled trackway, orientated north to south, was aligned on this ditch and was exposed for c.120m The trackway ran parallel with and appeared to respect the most extensive of the post alignments. Other Early Iron Age activity comprised a series of pit groups containing small assemblages of pottery and animal bone. Late Iron Age/Early Roman activity was represented by a series of poorly-dates ditches which re-cut several Middle Iron Age ditches that cut through the cobbled trackway making it narrower. A north-northeast to south-southwest aligned Early Roman cultivation system was present across the westernmost part of the site and is one of several such systems identified across the Addenbrooke's landscape.
Evidence for the post-medieval period consisted of a boundary ditch and associated smaller sub-divisions. A number of possible furrows were also identified. At the east end of site was a post-medieval enclosure containing a number of north-south and east-west aligned ditches.
Actions (login required)