Bush, Louise (2014) Manor Farm, Pertenhall, Bedfordshire. [Client Report] (Unpublished)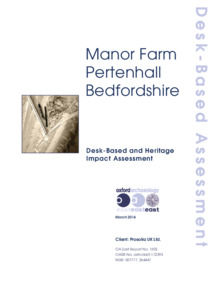 Preview
PDF




Pertenhall Solar Heritage Statement_LR.pdf


Available under License Creative Commons Attribution Share Alike.
Download (2MB) | Preview
Abstract
This desk-based assessment and heritage statement appraises the potential impacts upon the Archaeology and Cultural Heritage resource from a proposed solar farm on land south of Manor Farm, Pertenhall, Bedfordshire (507777, 264447).
The proposed 30.36 hectare (75 acre) Site consists of five fields occupying a generally flat area of land at the base of a ridge, situated at around 31m OD. The Site is located approximately 1.3km south-west of the medieval core of Pertenhall. The surrounding historic villages of Brook End, Keysoe, Little Staughton, Swineshead and Riseley are located within a 4km radius of the Site.
Evidence for archaeological remains (in the form of find spots and features) from the Mesolithic through to the post-medieval period have been identified within a 1km
radius of the Site.
This report demonstrates that there is the potential for archaeological remains within the proposed scheme area, in particular of the Iron Age and Roman periods. The majority of the proposed Site has been subject to little modern disturbance, and as such archaeological deposits are likely to be in a good state of preservation, although they may have been affected by arable farming techniques from the
medieval and post-medieval periods.
The construction of the proposed solar modules, associated substations, inverter cabins, cable trenches and access track have the potential to have a Moderate/Large effect upon archaeological deposits. A mitigation strategy,
comprising intrusive works (most likely in the form of an archaeological trial tench evaluation) would result in preservation by record.
There are no Listed Buildings, Scheduled Monuments, Conservation Areas or Historic Parks and Gardens within the Site itself but there are seven Listed Buildings within a 1km radius. Therefore there may also be a Moderate/Minor effect upon the setting of Historic Buildings close to the proposed Site and a Minor effect on the Historic Landscape, although the proposed planting of new hedgerows will help toreduce the effect of the development on these cultural resources to Neutral/Slight for Historic Buildings and Neutral for the historic Landscape.
Actions (login required)