Webb, Robin (2016) An Archaeological Evaluation at the Perse School, Cambridge. [Client Report] (Unpublished)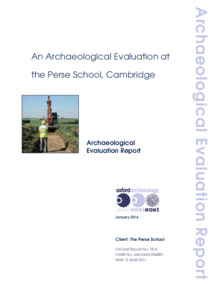 Preview
PDF




Report 1816 print.pdf


Available under License Creative Commons Attribution Share Alike.
Download (10MB) | Preview
Abstract
An archaeological evaluation of six trenches took place at the Perse School, Cambridge, covering an area of 243m². This took place ahead of the development of a performing arts centre. The work took place in two phases: the first, covering the area of tennis courts, took place between the 3rd and 4th of August 2015, and comprised 3 trenches covering 108m². The second phase, covering the area of an all-weather pitch, took place between the 15th and 16th of December 2015, and comprised of 3 trenches covering 135m².
The evaluation uncovered limited archaeological remains. The first phase revealed four undated ditches, with two of these probably furrows and the other two part of field systems in the area. This phase also revealed the shallow remains of a pit, possibly used for storage, a posthole, and natural rooting. Much of this area was disturbed ahead of layers being built up for the levelling of the tennis court, with the subsoil heavily truncated.
The second phase of the evaluation revealed a single ditch, two pits and a posthole, plus a series of natural features that spread across the site. All of these features were undated. This area saw less disturbance of the subsoil, with the levelling layers built up on top of the subsoil.
Actions (login required)