House, Jonathan (2011) Archaeological Excavation at Burrough Green Primary School, Cambridgeshire. [Client Report] (Unpublished)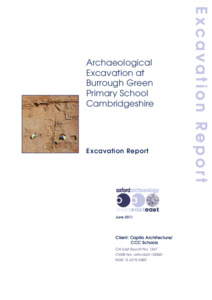 Preview
PDF




Report1267.pdf


Available under License Creative Commons Attribution Share Alike.
Download (74MB) | Preview
Abstract
An intermittent programme of fieldwork has been carried out between July 2008 and April 2011 by Oxford Archaeology East in advance of construction of the new Burrough Green Primary School. The site is centred on TL 6375 5580, at the north of the village.
This report details the results of the excavation of part of a putative moated monument (SM33588), the south-eastern corner of which is located beneath the 1960s school buildings which were to be demolished as part of the redevelopment. This part of the moat had been excluded from the scheduled area and was subject to an archaeological excavation. The excavation area (Area C) exposed the south-east corner of the ditch where four separate slots were excavated across it. Excavation of the ditch, which measured c.3m wide and up to 0.95m deep, suggests that it was part of a ditched enclosure rather than a moat of any size, with finds indicating a probable 17th or 18th century
date; it had been completely filled in by the 19th century. It is possible that the enclosure was an extension to the scheduled moat, perhaps representing an enclosed orchard associated with the Hall located to the south-west.
The absence of finds pre-dating the 17th century from any of the phases of fieldwork at the school suggests that this part of the monument is unlikely to be significantly earlier and its foundation within the medieval period seems to be highly unlikely.
Actions (login required)