Lambert, Neil and Lambert, Neil King Ethelbert School Birchington Kent. [Client Report] (Unpublished)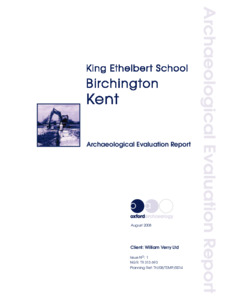 Preview
PDF




KS3ACK08_eval_PdfA.pdf


Download (3MB) | Preview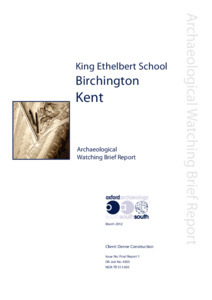 Preview
PDF




KS3ACK08_WB_PdfA.pdf


Download (4MB) | Preview
Abstract
Between 7th and 11th April Oxford Archaeology (OA) carried out a field
evaluation at King Ethelbert School, Birchington, Kent (NGR TR 313 693)
on behalf of William Verry Construction, as part of the Kent 'Building
Schools for the Future' (BSF) programme. Several circular cropmarks are
recorded on aerial photographs in the immediate vicinity of the site which
suggest the possible location of a barrow cemetery. There is also evidence
for extensive Iron Age and early Roman settlement and agricultural
landscapes in the surrounding area, particularly to the south and southeast
of King Ethelbert School (eg the Scheduled Monument at Quex Park,
560 m south-east of the site). Archaeological features may be expected to
survive in patches of undisturbed ground within the school site.
Of the five trenches excavated, only Trench 3 contained any
significant archaeology, a single ditch of probable later prehistoric date,
buried at a depth of 0.5m. The dating evidence comprises a small group of
pottery sherds, including a hard fired, slightly beaded rim, probably from
a fairly simple barrel-shaped jar, the form of which suggests a mid- to
late- Iron Age date.
The evaluation results indicate that the eastern part of the new
building footprint and associated carparks have been extensively
disturbed by modern groundworks, to depths in excess of 1.5m (Trenches
1, 4 and 5). The western side of the building footprint (Trenches 2 and 3)
appears relatively undisturbed, as demonstrated by the survival of the
probable Iron Age ditch in Trench 3, cut into weathered chalk at a depth
of c 0.5m.
Between December 2008 and February 2009 Oxford Archaeology (OA)
carried out an archaeological watching brief at King Ethelbert School,
Gravesend in Kent. Kent County Council commissioned the work in
advance of works carried out by Denne Construction. The watching brief
formed the last phase of archaeological investigations at the site during
part of Wave 3 of the Kent Building Schools for the Future (BSF)
programme and revealed one possible archaeological feature.
Actions (login required)