Nicholls, Kathryn (2015) Land off Beeches Road, West Row, Suffolk. [Client Report] (Unpublished)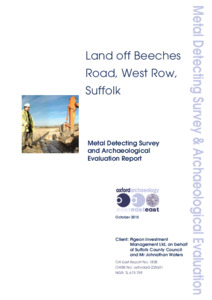 Preview
PDF




XSFWRB15_Report_1838_LR.pdf


Available under License Creative Commons Attribution Share Alike.
Download (2MB) | Preview
Abstract
Between 18th August and the 9th September 2015, Oxford Archaeology East undertook a metal-detecting survey and trenched archaeological evaluation at land off Beeches Road, West Row, Mildenhall, Suffolk (TL 675759). The metal-detecting survey yielded 43 non-ferrous artefacts dating from the late Roman period to the early 20th century, including 12 Roman coins distributed towards the western end of the site. A total of 67 trenches were subsequently excavated, revealing a well defined area of Roman settlement, broadly corresponding to the coin scatter from the metal detecting survey, as well as a zone of medieval activity at the far western end of the site along the frontage of Beeches Road. A background scatter of prehistoric pottery and worked flint was also recovered, mainly from periglacial hollows and tree throws.
The core of the Roman settlement was centred upon Trenches 10, 11, 12, 15 and 16, with further Roman activity recorded in trenches to the east. The core included a network of inter-cutting ditches, rubbish pits, a possible well, and a metalled surface; the metalled surface was covered by a 0.40m thick deposit of artefact-rich 'dark earth'. These features and deposits yielded a substantial number of Roman finds, including pottery, animal bone, roof tile, floor tile and box-flue tile suggesting the presence of a structure with underfloor heating in the vicinity. The finds inventory also included worked stone, mortar, painted plaster, glass and metal finds. The quantity and range of artefacts point towards a relatively wealthy or high status farmstead-type settlement, dating from the 2nd to 4th century AD. An articulated inhumation was also discovered but left unexcavated.
Evidence for medieval activity was found to the west of the Roman occupation along the frontage of Beeches Road in Trenches 1-3. These trenches contained a series of shallow pits and ditches yielding the occasional fragment of medieval pottery. The purpose of the pits is uncertain, but the scarcity of finds suggest this was not a focus of settlement.
A scatter of largely undated linear ditches, gullies and the occasional pit were found across the remainder of the trenches. The ditches ran on various alignments, but few could be traced between trenches. These features probably relate to the agricultural use of the land.
Actions (login required)