House, Jonathan (2013) Medieval Remains at 30-31 Occupation Road, Cambridge. [Client Report] (Unpublished)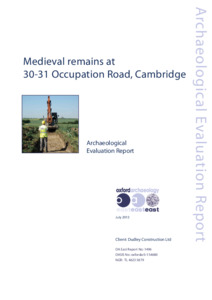 Preview
PDF




report 1496_LR.pdf


Available under License Creative Commons Attribution Share Alike.
Download (6MB) | Preview
Abstract
An evaluation was carried out by OA East on the 1st and 2nd July 2013, at 30-31 Occupation Road, Cambridge, Grid ref. TL 4623 5879. A single 10m long trench was positioned at the south side of the site to avoid above ground obstructions.
The site is located within an area of historical and archaeological significance; the proximity of Barnwell Priory and the lay settlement of Barnwell (recently subject to excavation at the corner of Newmarket Road and Coldhams Lane to the east of the subject site) are of particular significance. Extensive early 19th century gravel quarrying is known to have been undertaken in the vicinity, and by the early 19th century the site had been developed for domestic housing. From the mid 20th century onwards the residential housing in this area was gradually replaced by commercial properties. The site is located within an area of known post-medieval quarrying as noted on adjacent sites. It is also thought to be sited within the medieval lay settlement associated with Barnwell Priory.
Features of possible medieval date were found during this investigation, they have been interpreted as medieval or later quarrying activity, since associated pottery dating to the mid 12th century to mid 14th century was recovered from their fills and there were no later finds, it should be noted, however, that the pottery was heavily abraded suggesting it had been lying in the soil for a considerable time before finally being deposited in these pits. Evidence for 19th century building expansion was also found during the evaluation.
Actions (login required)