Gilmour, Nick (2015) Early to Late Bronze Age funerary activity and later Bronze Age domestic material at Turners Yard, Fordham, Cambridgeshire. [Client Report] (Unpublished)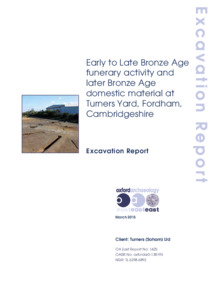 Preview
PDF




Report 1425_LR.pdf


Available under License Creative Commons Attribution Share Alike.
Download (5MB) | Preview
Abstract
Between 10th October and 21st November 2012, Oxford Archaeology East carried out an excavation at Turner's, Fordham, Cambridgeshire (TL 6298 6892). This was in advance of the construction of a new lorry park. Two Early Bronze Age barrows were excavated. One had an internal diameter of 18.3m and close to the centre was a single Collared Urn, containing the cremated remains of an adult individual, possibly a male, accompanied by a copper alloy knife-dagger and a pierced bone point. Finds from the ditch of this barrow were limited, including a few struck flints and several sherds of Bronze Age pottery. A single pit was excavated adjacent to this barrow; it contained a significant quantity of Beaker pottery, struck flint, animal bone and a fragment of a polished greenstone axe.
The second barrow was larger, with an internal diameter of c. 27m. At the centre of this feature was a crouched burial, which had been heavily disturbed by burrowing, however several sherds of Beaker pottery and part of a jet or jet-like bracelet were recovered from it. Bone from this individual returned a radiocarbon date of 1903-1744 cal BC. In the base of the barrow ditch a second inhumation was found, which was radiocarbon dated to 1666-1509 cal BC. Tightly fitted into a small grave, the individual was placed on their back, with their knees pointing upwards. Within the fills of the barrow ditch significant deposits of later Bronze Age material were recorded. These included pottery, struck flints, animal bone, disarticulated human remains, chalk spindle whorls, bone pins, bone needles and a possible stone gaming counter. A total of 4760 struck flints were found within the barrow ditch.
Between the two barrows a cemetery of 21 cremation burials or cremation related features were excavated. These have been radiocarbon dated to the Late Bronze Age, with dates of 1006-844 cal BC, 1043-903 cal BC and 1119-931 cal BC. Cemeteries of this date are currently extremely unusual in Britain, although radiocarbon dating of future discoveries and known prehistoric cremation cemeteries is likely to change this situation. No urns or other grave goods were recovered and the deposits were widely spread out. A single pit towards the edge of this group contained 1.79kg of Late Bronze Age pottery.
Actions (login required)