Bush, Louise (2016) Toplers Hill to Stratton Water Pipeline, Biggleswade, Bedfordshire. [Client Report] (Unpublished)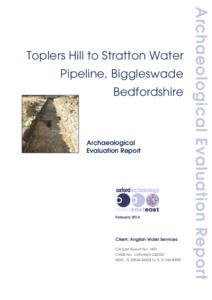 Preview
PDF




BEDFM2016.01 eval report_LR.pdf


Available under License Creative Commons Attribution Share Alike.
Download (2MB) | Preview
Abstract
Between the 3rd and 11th of February 2016 Oxford Archaeology East undertook a trial trench evaluation along the route of a proposed water pipeline between Toplers Hill and Stratton, Biggleswade, Bedfordshire (TL 20534 43634 to TL 21146 40987).
In all, seven of the 16 excavated trenches were seen to contain archaeology. The remains date from the Middle and Late Iron Age. Post-medieval and modern agricultural remains in the form of ridge and furrow were also identified across a further four trenches.
The Middle Iron Age was represented by a single pottery sherd recovered from the subsoil of Trench 3. Late Iron Age activity was identified in Trench 1 at Toplers Hill, where a single north-west to south-east aligned ditch was revealed (containing a small amount of pottery). A single ditch in Trench 7 also contained one small sherd of Late Iron Age pottery.
The trenches to the south and east of Stratton Business Park (Trenches 11, 13 and 14) contained the most concentrated Late Iron Age remains. Here ditches, gullies, pits, a cobbled surface and an extensive area of either quarrying or intercutting pits were uncovered. Trenches 7 to 10 contained the remnants of ridge and furrow, all of which were orientated east to west.
Overall the fieldwork has identified a concentration of Late Iron Age remains across Trenches 11 and 13 to 15 in the vicinity of Stratton Farm which have the potential to tie in with the previous fieldwork findings in the immediate environs.
Actions (login required)