Atkins, Robert (2014) Roman and post-medieval remains at Manor Farm, Eltisley, Cambridgeshire. [Client Report] (Unpublished)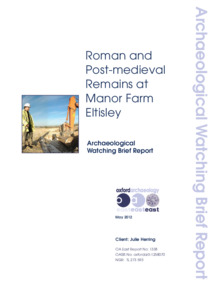 Preview
PDF




Report 1338final.pdf


Available under License Creative Commons Attribution Share Alike.
Download (5MB) | Preview
Abstract
Oxford Archaeology East carried out three phase of an archaeological watching brief at Manor Farm, Eltisley (TL 273 593). The first phase was carried out over four days (22nd to 27th February 2012) during construction of a sewage treatment plant and associated service trenches and a soakaway.
This revealed a dense concentration of Roman pits and ditches in the area directly to the north of the moat surrounding Manor Farm. Two undated pits within the courtyard of the moated site may be of Roman or later date. The pits were sealed by a post-medieval and/or modern cobbled and brick surface which probably related to a series of late 18th to early 19th century barns located within the eastern part of the moated site.
The second phase was undertaken between 1st and 6th July 2013 in the area to the south of the manor house. Two medieval ditches, aligned north to south, were recorded. These were later cut by a post-medieval ditch. To the east lay an undated post-hole.
A third phase of work took place on the 22-23rd of April 2014. Two trenches were excavated for services to the manor house. The first, to the north, crossing the existing entrance to the manor and the second to the south of the property. The trench to the north revealed post medieval gravel, tarmac and cobbled surfaces along with two ditches aligned east to west and the possible original cut of the moat. To the south, the ground was very disturbed but did reveal the possible course of the original moat.
Actions (login required)