Atkins, Robert (2015) Land off Rampton Road, Cottenham. [Client Report] (Unpublished)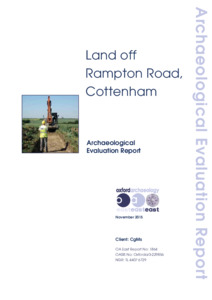 Preview
PDF




Report 1864_LR.pdf


Available under License Creative Commons Attribution Share Alike.
Download (2MB) | Preview
Abstract
Between 26th October and 4th November 2015 Oxford Archaeology East (OA East) conducted an archaeological evaluation at land off Rampton Road, Cottenham (TL 4407 6729; Fig. 1) on 14.16ha of land. This work was undertaken in advance of the determination of a planning application (S/1818/15/OL) and followed on from a desk-based assessment by CgMs (Gailey 2015) and a geophysical survey by GSB (Tanner 2015). Thirty-eight evaluation trenches were excavated across the site with seven targeted over possible anomalies located by the survey.
In eight trenches (Trenches 1-8) features dating to the Late Iron Age to Early/Middle Saxon were found. The features were located in the south-west corner of the site on a slight south-east facing slope next to the top of a short rise between 13.26m OD and 12.1m OD. A total of 48 features were revealed in this area, 28 of which were excavated in the evaluation. The features comprised a network of enclosure ditches, pits, watering holes and gullies. These belonged to an area of ditch defined Late Iron Age and Roman settlement, characterised by a complex of interconnected rectilinear enclosures broadly arranged on a north-west south-east aligned axis. Possible structural remains were identified in the evaluation, including Late Iron Age period ring gullies and Roman period beam slot structures or gullies.
The large ditched enclosures, watering holes and the relatively large quantities of animal bone recovered suggest that pastoral farming was a notable function of the Late Iron Age and Roman economy at that site. Charred cereals were also recovered indicating an arable component, with good preservation of seeds through carbonisation and waterlogging. Moderate quantities of Late Iron Age pottery and Roman pottery were also found suggesting long-lived settlement from the mid first century BC to the 4th century AD.
Three Early/Middle Saxon features comprising a possible SFB, a ditch and a pit were uncovered in three trenches (Trenches 2, 7 and 8), suggesting the presence of Saxon occupation. Furrows were recorded over most of the evaluation area on a north-west to south-east and north-east to south-west axis. Those examined yielded finds from at least the 17th century.
Actions (login required)