Nicholls, Kathryn (2014) Isleham Drainage Resolution. [Client Report] (Unpublished)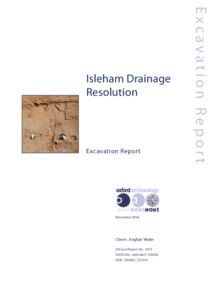 Preview
PDF




Isleham Drainage report_LR.pdf


Available under License Creative Commons Attribution Share Alike.
Download (987kB) | Preview
Abstract
During September 2014 Oxford Archaeology East undertook an excavation on two areas of land between Fordham Road and Fordham Moor, Isleham, Cambridgeshire (NGR: 563402, 272314) on behalf of Anglian Water and in advance of pipeline construction. Two fields were investigated, from the east: Field 1 and Field 2.
The earliest activity uncovered probably dates to the Middle Bronze Age in the form of ditches and a natural hollow which contained a concentration of burnt flint. Located approximately 140m north west of the western end of the trench in Field 1 was the Isleham Bronze Age Founders Hoard which consisted of 6500 pieces of bronze, found alongside Bronze Age ditches and a possible Bronze Age long house.
A single ditch was recorded within Field 2 tentatively dated to the Bronze Age.
Very little Iron Age activity has been recorded in Isleham thus far. During the current excavations, Iron Age pottery formed the bulk of the small ceramic assemblage, recovered mostly from tree throws towards the eastern end of the site in Field 1. No cut features have been identified as Iron Age in date, though trackway ditches towards the western end of Field 1 could feasibly date to the Late Iron Age or Early Roman period (though is more likely to be Medieval).
Medieval activity dating to the 12th-14th century was observed largely in the form of ditches. This activity suggested areas of farmland including a large trackway which runs north-west from Isleham road across the area of excavation. Post-medieval activity was also observed in the form of enclosure ditches running east-west which were later cut by the Mildenhall-Cambridge railway line which was erected in 1883.
Actions (login required)