Pocock, Matt and Simmonds, Andrew East Tilbury and Linford Essex. [Client Report] (Unpublished)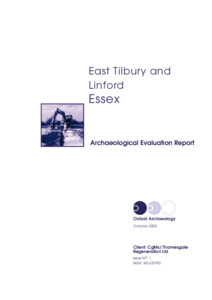 Preview
PDF




ETL05-pdfA.pdf


Download (2MB) | Preview
Abstract
Between 8th August and 26th September 2005 Oxford Archaeology (OA) carried out a field evaluation on land at East Tilbury and Linford, Essex on behalf of CgMs Consulting and Thamesgate Regeneration Ltd. The
results of the evaluation are to be included in an Environmental Statement in support of a planning application to be submitted to Thurrock Council
for a proposed housing development.
This evaluation exercise was concerned with Tranches 1 and 2 of Phase 1 of a programme that will be rolled out according to the phasing of the development. In addition to this, part of the corridor of a proposed spine
road and an area of land belonging to the Bata Trust was also evaluated.
At the time of the evaluation access was not available to part of the central and south-western parts of Tranche 2. This area will be evaluated at a future date when access becomes available. The evaluation identified four main concentrations of archaeological features. A late Bronze Age settlement surrounded by a substantial
enclosure ditch was identified in Trenches 385, 386, 388 and 390 on the land belonging to the Bata Trust. Features in the trenches around this may be the remains of fields and paddocks associated with the settlement.
In the northern part of Tranche 1 evidence was found for a complex of field boundaries dating from the Roman period. The presence of a number of pits and postholes in this area, combined with the evidence from the pottery assemblage, hints at the existence of a settlement in the vicinity.
Two further areas of field system were identified, located in the southern part of Tranche 1 and at the southern end of Tranche 2, the latter extending into the corridor of the proposed spine road. Ditches dating from both the late Bronze Age and the Roman period were recorded in the latter area, suggesting that superimposed field systems of both periods are
present.
Actions (login required)