Atkins, Robert (2012) An Archaeological Evaluation at Alconbury Airfield Enterprise Zone, Alconbury, Cambridgeshire. [Client Report] (Unpublished)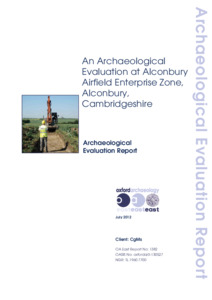 Preview
PDF




report_1382_full_LR.pdf


Available under License Creative Commons Attribution Share Alike.
Download (2MB) | Preview
Abstract
Over 3rd to the 6th July 2012, OA East conducted an archaeological evaluation comprising twelve trenches (collectively 358.25m long) at Alconbury Enterprise Zone, Alconbury Airfield in advance of a new road access. This work was located to the west of a previous evaluation in 2001 which found Mid/Late Iron Age to Early Roman remains. In the present evaluation, five trenches contained no archaeological features and seven trenches, over a 350m distance, found features dating to between c. 2nd century BC and c. late 2nd century AD. The density of features in the seven trenches ranged from a single feature to densely intercutting remains across an entire trench.
Iron Age features were encountered in five Trenches (6, 7, 8, 11 and 12) over a 300m by 150m area with domestic type assemblages recovered from two different areas (Trenches 6/7 and Trenches 11/12), c.300m apart. The Late Iron Age remains found in the 2001 evaluation was located c.300m and c.400m distance respectively from these two 'domestic' areas suggesting that these three areas represent different farmsteads or different family groupings within an agglomerate type settlement.
Early to Middle Roman remains were found in two locations (Trenches 5 and 9), more than 200m apart. Trench 5 was located c.100m to the west of one of the Latest Iron Age domestic focii (Trench 6) and contained a very dense area of features (either pits and/or ditches) dating up to at least the end of the 2nd century AD. The second area of Roman remains (Trench 9) was located between the other two Latest Iron Age domestic areas found in the evaluation.
Actions (login required)