Fletcher, Taleyna (2014) Late Bronze Age Settlement and Burial on Land North of Newmarket Road, Burwell, Cambridgeshire. [Client Report] (Unpublished)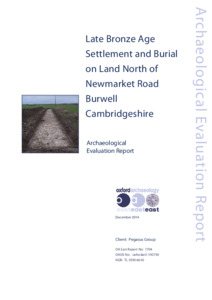 Preview
PDF




BURNMR14_finalreport_1704__LR_Updated.pdf


Available under License Creative Commons Attribution Share Alike.
Download (4MB) | Preview
Abstract
Between the 3rd and 14th of November 2014, Oxford Archaeology East conducted an archaeological evaluation on land north of Newmarket Road, Burwell, Cambridgeshire.
The site is located on agricultural land accessed via Melton Farm on the eastern side of Burwell. Although currently cultivated fields, the wider area shows that this land use has persisted for at least 500 years, as ridge and furrow remains have previously been captured on aerial photographic surveys of the area
The evaluation consisted of 54 machine excavated trenches across three fields under the occupancy of two separate tenant farmers. As the fields had recently been drilled, it was necessary to cause as little damage to the crops as possible – this impacted on the trench design and as a result most trenches were north-east to south-west orientated and between 30 and 50m in length..
The evaluation revealed two main areas of Late Bronze Age archaeology:
An area of approximately six hectares to the immediate east of Melton Farm, in the south-west corner of the site, revealed clusters of postholes from buildings, fencelines or other structures along with several pits and a possible well which all indicate settlement activity in this part of the site.
The second area, approximately 300m to the north-east, revealed what appears to be an isolated cremation (although further investigation around Trench 48 would be required to determine this) as well as a small number of pits and tree throws which contained pottery and animal bone. The cremation vessel was almost complete with just a small amount of damage to the rim and analysis of its contents indicate the cremated remains of an adult and a child.
A number of large features considered to be naturally occurring were recorded across the site. These contained soils similar to the subsoil and varied in depth from 0.25m to 1.50m, some of which contained pottery and animal bone.
Features in both areas yielded Late Bronze Age pottery. Only a small amount of animal bone was recovered from the entire site and just a handful of worked flints. However, surface finds across the site could indicate other areas of flint-working may exist on the site.
The nature of the remains is similar to that recorded approximately 80m to the south-west of the site, at land to the rear of Nos 36-42 Newmarket Road excavated in 2005 (Bailey and Popescu 2006). This site investigated a number of pits and numerous postholes scattered across the site, some were dated, although many remain undated. These features were also interpreted as the presence of structures and fences. Although initially dated to the Iron Age, recent reappraisal of the pottery (Brudenell 2012) from this site has lead to its reinterpretation as a Late Bronze Age site.
Together these sites would indicate a large area of settlement activity from the Late Bronze Age surviving within the eastern environs of Burwell.
Actions (login required)