Brady, Kate and Hiller, Jon St White's Farm, Cinderford, Gloucestershire. [Client Report] (Unpublished)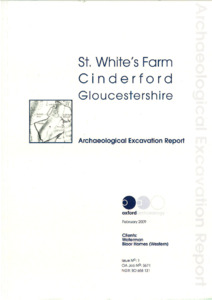 Preview
PDF




SOYDH.2007.46_PdfA.pdf


Download (12MB) | Preview
Abstract
In December 2007 and January 2008, Oxford Archaeology (OA) undertook an excavation at St. White's Farm, Cinderford, Gloucestershire (NGR SO 6583 1310) commissioned by Waterman CPM on behalf of the client, Bloor Homes (Western). This preceded the development of new housing and an access road. The excavation was focussed upon part of the access road to the west of St. White's Farm and followed a field evaluation within the whole development boundary by OA in June 2007.
St. White's Farm is believed to be on the site of a medieval chapel and hermitage, once part of the Flaxley Abbey Estate. A Charter of 1158 makes mention of a "grangia" at Wastadene and an iron forge (unam forgiam ferrariam) at Edlond. Wastadene was thought by some antiquarians to be the Flaxley Grange property belonging to the Abbey located south of the village of Little Dean, and the farm on the hill west and above it was "Edlond" (now St. White's Farm), where the iron forge was located. More recent research has suggested that the medieval Grange might actually have been located at St. White's Farm itself.
The excavation was concentrated on a 12th-13th-century ironworking area partly that was encountered in evaluation Trench 5. The site included stone walls of probable buildings, a possible oven lined with stone, a further possible hearth associated with clay floors, drainage ditches and refuse pits. All of these were directly associated with substantial deposits of ironworking debris. This comprised smelting slag waste and both primary and secondary smithying waste in the form of hammerscale and slag spheres. The artefact assemblages were dominated by pottery of 12th-13th-century suggesting a rather short period of activity. The small quantities of 16th-century material encountered suggests that some later activity did take place at the site although archaeological evidence of this was limited to the few sherds of pottery of this date.
To the north-east of St. White's is a disused hollow-way that may have originally led to this small settlement and latterly to the farm itself, before it was infilled in the 20th century when a new access road was made to the farm off the B4226. This feature was partly excavated in the course of the work, revealing cartwheel ruts in the trackway stone surface.
Actions (login required)