Rees, Gareth (2016) The Windmill and Cambridge Union Workhouse on Mill Road, Cambridge. [Client Report] (Unpublished)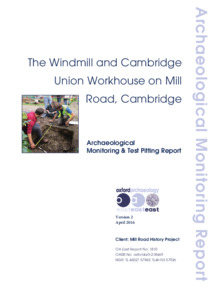 Preview
PDF




CAMMIL15_Report_1810 v2_LR.pdf


Available under License Creative Commons Attribution Share Alike.
Download (3MB) | Preview
Abstract
In July 2014 the Mill Road History Project proposed a community archaeology project in collaboration with Oxford Archaeology East (OAE), to investigate possible locations of the late 18th century Mill Road windmill. Based upon the historic mapping, this was known to be in the vicinity of Mill Street and Covent Garden.
During the planning stage of the test pit excavation it became apparent that the most likely site, at 56\56a Mill Road, was about to be developed into six self contained studio flats, of which four were to be new builds.
OAE and Lucy Walker, from the Mill Road History Project, conducted archaeological monitoring at 56\56a Mill Road, Cambridge (TL 46027 57943) during the demolition and partial conversion of the existing shops and rear extensions at the site.
A total of three monitoring visits took place between the 20th April and the 8th May 2015. These uncovered evidence of a large pit, containing some 19th century refuse, along with a linear feature and two short segments of brick wall footings. Although no direct evidence of the mill survived it is likely that some of the 18th\19th century material observed in the pit, and also recovered from the overburden, relate to occupation and use contemporary with the windmill.
As a result of the new development the community archaeology project was relocated to Ditchburn Place. This location, 90m to the south-east of the windmill site on the north-east side of Mill Road, was the site of the Cambridge Union Workhouse from 1837 (TL46153 57926).
Three test pits were excavated here between the 11th and 12th September 2015. Two test pits (1 & 2) were targeted on the remains of tramps' cells, built in 1879 on the street frontage of the plot. The third (3), was located in an area between the 19th century buildings in order to assess the presence and survival of earlier archaeological features.
Activity dating to the 20th century was recorded in Test Pits 1 and 2. Natural deposits were not reached here as a result of the depth of the modern overburden, primarily construction material associated with a car park dating from the mid-20th century. There is a possibility that archaeological remains lie below the level of the car park, although construction of this type is likely to have impacted on the 19th century remains.
No significant archaeological deposits were uncovered in Test Pit 3. Natural geological drift deposits were encountered here 0.40m below the turf.
Actions (login required)