Moan, Patrick (2015) Bronze Age to Roman Ritual and Settlement and Early Medieval Industrial Activity at Barleyfields, Fulbourn, Cambridgeshire. [Client Report] (Unpublished)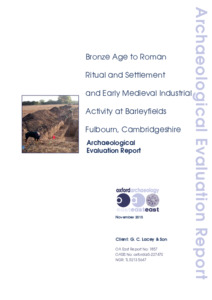 Preview
PDF




FULBAR15_Report_1857_LR.pdf


Available under License Creative Commons Attribution Share Alike.
Download (3MB) | Preview
Abstract
Between 7th and 19th October 2015, Oxford Archaeology East (OA East) carried out an archaeological evaluation on land at Barleyfields, Fulbourn, Cambridgeshire (TL 5213 5647). In all, 23 trenches totalling 555 linear metres were excavated across the proposed development area, equating to a 3.4% sample. Significant archaeological remains were recorded in all trenches. Undated inhumations, an Early Bronze Age barrow ring ditch, Early Iron Age pits, a Late Iron Age apsidal enclosure, Romano-British cremations, numerous undated and Roman ditches along with medieval backyard industrial activity including a possible sunken
featured building were recorded across the proposed development area. The evidence surviving in the archaeological record indicates that the surrounding historic landscape has seen significant occupation and some industrial activity beginning at least four and a half thousand years ago and lasting into the medieval period. The Late Iron Age apsidal enclosure is of particular interest, as no direct parallel can be found, with the closest examples being found in 'burial enclosures'
excavated near Baldock, north Hertfordshire and the temple enclosure at Fison Way, Thetford, Norfolk.
Truncation was variable across the subject site, with the eastern field covered by a significant depth of subsoil and topsoil. The western field was truncated more heavily within the area of the barrow ring ditch, though subsoil survived within the majority of other trenches in the area.
A moderate assemblage of Early Iron Age pottery was recovered from pits within the eastern field as well as an assemblage of Late Iron Age and Roman pottery from
features across site, particularly from the apsidal enclosure, along with a large assemblage of animal bone, mostly from Late Iron Age and Early Roman contexts.
A very small assemblage of Early Medieval pottery was also recovered from the features near the southern limit of the proposed development area. Small finds include a two Roman coins, seven worked bone items and an Early Roman copper
alloy toiletry piece. Environmental results were relatively good, with mineralised plant and insect remains being recovered from the possible sunken featured building and moderate amounts of charred plant remains from Roman and medieval contexts.
Item Type:
Client Report
Uncontrolled Keywords:
archaeological evaluation, cambridgeshire, fulbourn, inhumation, cremation, roman, bronze age, iron age, undated, apsidal enclosure, medieval industry, pottery
Subjects:
Geographical Areas > English Counties > Cambridgeshire
Period > UK Periods > Bronze Age 2500 - 700 BC > Early Bronze Age 2500 - 1500 BC
Period > UK Periods > Iron Age 800 BC - 43 AD > Early Iron Age 800 - 400 BC
Period > UK Periods > Early Medieval 410 - 1066 AD
Period > UK Periods > Iron Age 800 BC - 43 AD > Late Iron Age 100 BC - 43 AD
Period > UK Periods > Medieval 1066 - 1540 AD
Period > UK Periods > Roman 43 - 410 AD
Divisions:
Oxford Archaeology East
Depositing User:

Chris Faine

Date Deposited:
20 Apr 2016 10:01
Last Modified:
20 Apr 2016 10:01
URI:
http://eprints.oxfordarchaeology.com/id/eprint/2812
Actions (login required)