Thacker, Gerry and Peacock, Rebecca Tydu Works and Tregwilym Fach Farm, Jubilee Park, Rogerstone, Newport. [Client Report] (Unpublished)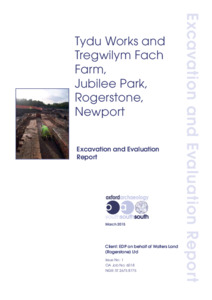 Preview
PDF




NEJU13_Post_excavation_report_2016.pdf


Download (13MB) | Preview
Abstract
Between September and November 2013 Oxford Archaeology (OA) undertook a
series of watching briefs, evaluations and area excavations at the Tydu works site
and adjacent Tregwilym Fach Farm outbuildings, in Rogerstone, Newport, South
Wales. The archaeological works were undertaken ahead of the redevelopment of
the area for a mixed development comprising residential, commercial, leisure and
educational facilities.
The excavations of the Tydu works site focused on the area of main works building
and also the adjacent stores buildings and worker's cottages. In addition to a
possible pre-works field boundary, the excavations uncovered the stone walls of the
late 18th century works building, and the leat that powered the original water wheel.
The remains of two stores buildings and part of a row of worker's cottages were also
investigated, and the rake out pits for 19th century furnaces associated with the
annealing and tinplating were uncovered. Modifications to the main works building in
the later 19th and early 20th century, when the works were involved in nail
production, were investigated, including the railway linking the Tydu works to the
Rogerstone works to the south. No evidence was uncovered for a postulated early
copper works on the site.
During the Second World War the works was converted to the processing of
aluminium for the production of aircraft parts. The bases of two large boilers that
powered the works and associated machine bases were investigated, and the works
building was modified to accommodate the new machinery.
The evaluation of the Tregwilym Fach Farm outbuildings revealed an original floor,
most of which had been destroyed by later activity.
Actions (login required)