Hounsell, Daniel (2008) Land At Millstone Lane, Barnack, Cambridgeshire. [Client Report] (Unpublished)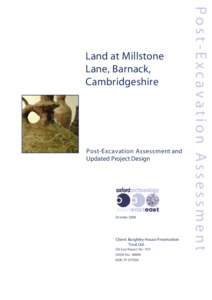 Preview
PDF




Report 972.pdf


Available under License Creative Commons Attribution Share Alike.
Download (13MB) | Preview
Abstract
Between August and September 2006 Oxford Archaeology East -
previously the Cambridgeshire County Council Archaeological Field Unit (CAM ARC) carried out excavations on land at Millstone Lane, Barnack - north of Peterborough - in advance of the proposed residential redevelopment of the site by the Burghley House Preservation Trust.
During the medieval period Barnack was a centre for quarrying activity. The stone quarried - Barnack Stone, a hard shelly oolitic Limestone was one of the stones used in building Peterborough, Ely and Bury St Edmunds cathedrals amongst others.
An archaeological evaluation had previously been conducted on the site, by the University of Leicester Archaeological Services (ULAS) in 1998. This work uncovered a number of limestone (Barnack stone) walls and what was thought to be a substantial flagstone floor. While the complete ground plan of the building was not revealed it was thought that the method of construction and width of some of the walls
was indicative of at least one substantial, possibly high status, building which had been occupied at some point between the 13th and 14th centuries.
The excavation carried out by OA East confirmed the presence of a large stone built structure and uncovered much of its ground plan. The work also demonstrated that the building went through at least two phases of use, marked by a period of re-modelling and alteration to the building. The exact function of the building was not clear. There was, however, at least some evidence for domestic use in the form of a large hearth, as well as possible industrial use as demonstrated by presence of a large and solidly floored yard into which a substantial stone drain had been built.
Into addition to this there was evidence that the site had been subjected to significant quarrying activity both before the construction of the building and after its demolition.
The datable pottery recovered from the excavation revealed that the site and / or its immediate surroundings was in use from the Anglo Saxon period through to the early modern period, with the peak of use being between the 13th and 16th centuries.
Actions (login required)