Atkins, Robert (2015) Multi period occupation on land north-east of Papworth Everard. [Client Report] (Unpublished)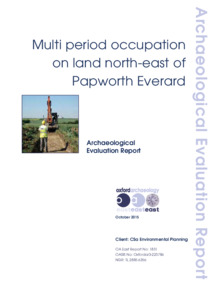 Preview
PDF




PEVNEE15_Report_1831_LR.pdf


Available under License Creative Commons Attribution Share Alike.
Download (12MB) | Preview
Abstract
Between the 27th August and the 4th September 2015 OA East conducted an evaluation on 11.5ha of land to the north-east of Papworth Everard village (TL 2885 6356) in advance of a proposed housing development. This work followed a geophysical survey (Slater 2015). Twenty nine evaluation trenches were excavated across the site with 14 targeted over possible anomalies, disturbances or field boundaries located by the survey.
The evaluation found parts of two settlement sites at the extreme northern and southern extents of the evaluation. At the far southern side within two Trenches (26 and 29) lay a Middle Bronze Age (MBA) pit or ditch as well as Middle Iron Age enclosed settlement near the crest of a south facing slope at between 46m and 48m OD. The MBA remains may have been an isolated feature denoting temporary occupation whilst the Middle Iron Age settlement probably extended over an area of more than 100m by 80m with at least two phases of occupation. Two similar very large ditches were uncovered c.100m apart and survived to 3m wide and 1.25m deep and may be part of the same enclosure ditch. Within the enclosure features were sparse with a probable watering hole and a ditch. The relationship between a curvilinear ditch and the enclosure ditch was uncertain, but denoted there was at least two phases of Middle Iron Age occupation.
A Middle Iron Age to Early Roman settlement lay 400m to the north of this southern settlement with features uncovered within four Trenches (5, 6, 9 and 10). It was located 'half way' down a north facing valley side at between c.35m and c.37m OD and these settlement features were recorded over a c.100m by c.50m area (but continued to the north and east outside the evaluation). A probable "B" horizon was cut by features of this settlement and this layer survived over an area measuring at least 200m by 50m.
In the middle of the site there was an area of undated possible cultivation system within two adjacent Trenches (19 and 20) and were cut by east to west furrows. Furrows were recorded over most of the evaluation area as well as a few modern former field boundaries and two undated shallow possible ditches.
Item Type:
Client Report
Uncontrolled Keywords:
archaeological evaluation, cambridgeshire, papworth everard, iron age, middle iron age settlement, bronze age, middle bronze age, roman, roman settlement, pottery, roman pottery, iron age pottery
Subjects:
Geographical Areas > English Counties > Cambridgeshire
Period > UK Periods > Iron Age 800 BC - 43 AD > Late Iron Age 100 BC - 43 AD
Period > UK Periods > Bronze Age 2500 - 700 BC > Middle Bronze Age 1600 - 1,000 BC
Period > UK Periods > Iron Age 800 BC - 43 AD > Middle Iron Age 400 - 100 BC
Period > UK Periods > Roman 43 - 410 AD
Divisions:
Oxford Archaeology East
Depositing User:

Chris Faine

Date Deposited:
16 May 2016 13:14
Last Modified:
16 May 2016 13:14
URI:
http://eprints.oxfordarchaeology.com/id/eprint/2835
Actions (login required)