Thatcher, Chris (2009) Iron Age Settlement at Wesleyan Road, Dogsthorpe, Peterborough. [Client Report] (Unpublished)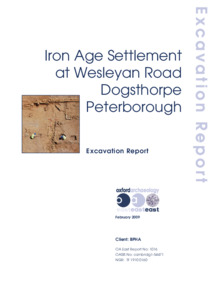 Preview
PDF




Report1016_LR.pdf


Available under License Creative Commons Attribution Share Alike.
Download (2MB) | Preview
Abstract
Between July and October 2007 the Cambridgeshire County Council Archaeological Field Unit (CAM ARC), now OA East carried out an archaeological excavation at land at Wesleyan Road, Dogsthorpe, Peterborough. This was in response to an archaeological evaluation conducted during January 2007, which successfully isolated several areas of
archaeological potential. A condition was placed on planning consent requiring a scheme of archaeological work to be undertaken prior to any development. This specified the opening of four areas with a total area of c.0.7ha. The excavation was centred on TF 1910 0160. The work was
commissioned by BPHA.
Archaeological evidence from two distinct periods was recorded during the course of the excavation. The first comprised 28 struck flints, a small quantity of burnt flint fragments and a single sherd of Beaker pottery dated to the
Mesolithic to Early Bronze Age. These were predominantly residual finds derived from the tertiary fills of features.
The second period of activity took place in the Middle to Late Iron Age. A series of linear features, whose alignments suggested at least three phases of occupation on site and up to five ring gullies/roundhouses were identified.
A number of discrete features were also recorded and, of these, the most notable were a number of quarry pits observed in Areas 4 and 3 and a particularly large well excavated towards the south of Area 4.
No evidence for occupation later than the Pre-Roman Iron Age was recorded on the site.
Item Type:
Client Report
Uncontrolled Keywords:
archaeological excavation, peterborough, dogsthorpe, beaker pottery, flint, iron age, roundhouse, CAM ARC, loom weight, pottery, animal bone, burial
Subjects:
Geographical Areas > English Counties > Cambridgeshire
Period > UK Periods > Bronze Age 2500 - 700 BC > Early Bronze Age 2500 - 1500 BC
Period > UK Periods > Iron Age 800 BC - 43 AD > Late Iron Age 100 BC - 43 AD
Period > UK Periods > Mesolithic 10,000 - 4,000 BC
Period > UK Periods > Iron Age 800 BC - 43 AD > Middle Iron Age 400 - 100 BC
Period > UK Periods > Neolithic 4000 - 2200 BC
Divisions:
Oxford Archaeology East
Depositing User:

Chris Faine

Date Deposited:
03 Jun 2016 10:46
Last Modified:
03 Jun 2016 10:46
URI:
http://eprints.oxfordarchaeology.com/id/eprint/2840
Actions (login required)