Webb, Robin (2016) Post-Medieval ditches and Undated Features from the Perse School, Cambridge. [Client Report] (Unpublished)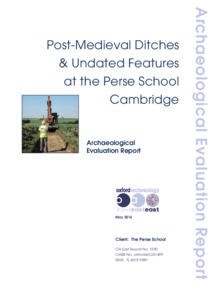 Preview
PDF




CAMPUS16_Report_1930_LR.pdf


Available under License Creative Commons Attribution Share Alike.
Download (2MB) | Preview
Abstract
Between the 9th and 11th of May 2016 an archaeological evaluation was undertaken by Oxford Archaeology East in advance of the construction of a new artificial grass all-weather pitch at the Perse Upper School, Cambridge (TL 4618 5580). This evaluation took the form of six 30m trenches covering 5% of the development area.
The trenches were excavated to a chalky marl natural and revealed limited archaeological remains alongside periglacial features. Archaeologically, a series of undated, though potentially prehistoric or Roman ditches were uncovered on the same north-east to south-west and north-west to south-east alignment as those of the coaxial field system identified in the Addenbrooke's area to the south and Clay Farm to the south-west.
Two post-medieval ditches were also identified forming part of a boundary and drainage system within the area. The boundary ran perpendicular to a boundary identified in 2008, on a north to south alignment, with the drainage ditch running east-north-east to west-south-west and parallel to ditches identified in the 2008 and 2012 evaluations to the south-east.
An isolated and undated posthole was also identified, as well as a series of pits of uncertain date.
Actions (login required)