Vellet, Peter Land West of Brize Norton Road Minster Lovell Oxfordshire. [Client Report] (Unpublished)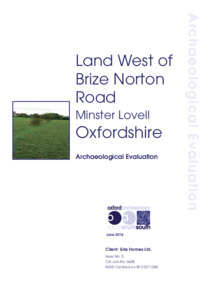 Preview
PDF




MILO16_PdfA.pdf


Download (5MB) | Preview
Abstract
Oxford Archaeology South (OAS) was commissioned by Ede Homes Ltd to
undertake an archaeological evaluation of the site of a proposed residential
development centred on NGR SP 3107 1040. The work was undertaken in May
2016. A total of 13 trenches were excavated and arranged to provide an even
coverage of the site and to target geophysical anomalies.
The site encompassed two former land holdings associated with the 1842
Charterville Allotments in an area of Minster Lovell known as Charterville. These
were represented by existing perimeter boundaries and an extant E-W-aligned
embankment bisecting the site, as well as a series of parallel ditches confined to the
southern of the two allotments. These ditches most likely served as sub-dividing
boundaries within this land holding, as well as fulfilling a drainage and/or irrigation
function.
Post-medieval activity within the site was represented by a single ENW-WSWaligned
boundary ditch identified as a geophysical anomaly and excavated in two
separate trenches. Artefactual, stratigraphic and cartographic evidence indicated
that this boundary ditch comprised part of a field system pre-dating the 1842
Charterville Allotments.
While no direct prehistoric activity, settlement or otherwise, was recorded within the
site, a natural feature was found to contain material dated to the early Bronze Age.
The early Bronze Age pottery and a notable quantity of hazelnut shells recovered
from its basal fill were interpreted as residual, most likely belonging to a buried soil
deposited through natural processes.
Several pits, probable quarry pits and natural features were also identified, although
these were recorded as undated as no artefactual material was recovered.
Actions (login required)