Gilmour, Nick (2015) A Possible Iron Age Banjo Enclosure on Land Adjacent Trafalgar Way, Bar Hill (in Lolworth parish). [Client Report] (Unpublished)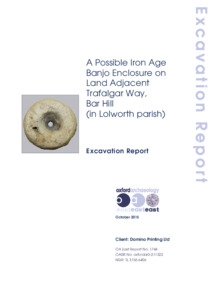 Preview
PDF




Report 1744_LR.pdf


Available under License Creative Commons Attribution Share Alike.
Download (1MB) | Preview
Abstract
Between November 2014 and January 2015 Oxford Archaeology East carried out an archaeological excavation on land adjacent to Trafalgar Way, Bar Hill (in Lolworth parish), Cambridgeshire. This was in advance of a proposed expansion of Domino Printing Ltd. The excavation followed on from a geophysical survey of the site, which suggested the presence of an Iron Age settlement type known as a banjo enclosure.
The excavation revealed at least two main phases of Iron Age (c.350BC to AD50) activity, including a large enclosure ditch surrounding a small farmstead represented by roundhouses, pits and postholes. Further pits, postholes and ditches were located outside of the main enclosure. The shape of the latter indicates that this was a banjo enclosure, although the characteristic funnel entrance lies outside of the area investigated. A later phase of Iron Age activity is represented by a large waterhole and a number of ditches and possible roundhouse gullies.
A moderate finds assemblage was recovered, comprising pottery, animal bone, querns, a fragmented possible loomweight, metalworking debris and struck flint. One of the querns had been placed in the terminal of a sub-enclosure ditch within the main banjo enclosure, with a dog skull placed on top of it. The pottery and animal bone assemblages in particular have potential to inform on the nature of the settlement and its longevity. The farmstead appears to have been relatively short-lived and was probably abandoned around the time of the Roman conquest – a similar picture to that which has emerged for other contemporary sites in the vicinity.
Item Type:
Client Report
Uncontrolled Keywords:
archaeological excavation, cambridgeshire, lolworth, bar hill, iron age, iron age settlement, settlement, enclosure, banjo enclosure, dog skull, quern, loomweight, pottery, iron age pottery
Subjects:
Geographical Areas > English Counties > Cambridgeshire
Period > UK Periods > Iron Age 800 BC - 43 AD
Period > UK Periods > Iron Age 800 BC - 43 AD > Late Iron Age 100 BC - 43 AD
Divisions:
Oxford Archaeology East
Depositing User:

Chris Faine

Date Deposited:
07 Jul 2016 13:59
Last Modified:
07 Jul 2016 13:59
URI:
http://eprints.oxfordarchaeology.com/id/eprint/2867
Actions (login required)