Stocks-Morgan, Helen (2015) An Archaeological Evaluation on the 132KV Cable diversion, Beaulieu, Chelmsford. [Client Report] (Unpublished)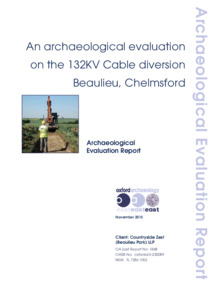 Preview
PDF




Report_1848_LR.pdf


Available under License Creative Commons Attribution Share Alike.
Download (1MB) | Preview
Abstract
An archaeological evaluation was carried out on the Cable Diversion Route, Beaulieu, Chelmsford. The fieldwork took place between the 4 September 2015 and the 12 October 2015. A total of twenty-eight trenches were excavated across ten separate fields within the proposed development area.
A putative Late Bronze Age or Early Iron Age roundhouse was located in the eastern part of the cable diversion route, within Field 5.
An undated trackway was present at the eastern end of the cable diversion route (in Field 49). It is ascribed to the medieval period due to its alignment with the medieval field system and green lanes. A further concentration of early post-medieval remains was encountered which consisted of three linears, containing brick rubble.
Actions (login required)