Stocks-Morgan, Helen and Kwiatkowska, Malgorzata (2016) Multi period remains from Zone P, Beaulieu, Chelmsford. [Client Report] (Unpublished)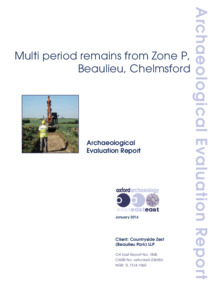 Preview
PDF




report 1845LR.pdf


Available under License Creative Commons Attribution Share Alike.
Download (1MB) | Preview
Abstract
An archaeological evaluation was carried out at Zone P, Beaulieu, Chelmsford. The fieldwork took place between the 4/9/15 and the 18/10/15. A total of forty-five trenches were excavated across two separate fields, within the proposed development area.
Evidence of Early Iron Age open settlement was encountered, comprising a fire pit and two small pits. A Middle Iron Age ditch, thought to be part of either a field system or trackway. was seen in the eastern field.
Early post-medieval remains comprising several brick-built linear features associated with the deer park were recorded in the eastern field. These are suggested to form part of a deer course. A post-medieval ring ditch was evident in the north-western part of the site along with a field boundary.
Item Type:
Client Report
Uncontrolled Keywords:
archaeological evaluation, essex, chelmsford, beaulieu, brick linear feature, deer park, deer course, iron age, iron age settlement, post-medieval, fire pit
Subjects:
Geographical Areas > English Counties > Essex
Period > UK Periods > Iron Age 800 BC - 43 AD > Early Iron Age 800 - 400 BC
Period > UK Periods > Iron Age 800 BC - 43 AD > Middle Iron Age 400 - 100 BC
Period > UK Periods > Post Medieval 1540 - 1901 AD
Divisions:
Oxford Archaeology East
Depositing User:

Chris Faine

Date Deposited:
21 Jul 2016 13:55
Last Modified:
21 Jul 2016 13:55
URI:
http://eprints.oxfordarchaeology.com/id/eprint/2890
Actions (login required)